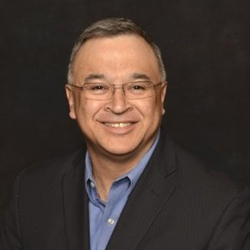 We are not just technology providers, more importantly we are problem solvers that understand each client's missions, goals, initiatives and budgets.
CHICAGO (PRWEB) April 25, 2017
Ace Technology Partners, one of the most respected public sector technology providers in the U.S., just announced that National Sales and Business Development Director Jaime Albizures was named to CRN's prestigious SLED Board of Advisors.
Ace Technology Partners CEO John Samborski said, "We are very pleased that Jaime received this recognition for his hard work and achievement in this sector. He is a key member of our management team and we consider CRN a top industry publication."
The SLED market represents five levels of government (state, city, local, education and special districts) representing about 30,000 purchasing agencies buying products and services for roughly 90,000 different entities. SLED organizations spend over $1.5 trillion annually.
Ace Technology Partners and its affiliate Ace Computers have been technology industry leaders for more than 30 years with deep roots in the SLED market. The companies are regarded as top custom system integrators globally and major technology solutions providers for the federal government, education, and state and local governments as well as enterprises.
"One of the reasons we have been so successful in this market is that we maintain a continually evolving, but robust strategy centered on growing key relationships," Albizures said. "We are not just technology providers, more importantly we are problem solvers that understand each client's missions, goals, initiatives and budgets."
Albizures began his sales career in 1999 with Creative Computers (now PCM). He was a key member of the Public-Sector Sales Division and held the position of Government Sales Director for 15 years. Prior to his sales career he spent seven years as the IT Operations Manager and Director for Morgan Stanley in the West Coast.
CRN parent, The Channel Company, is hosting an XChange SLED event May 23-24 in Buckhead, Ga., with Platinum Sponsors Lenovo and Oracle. The series of events constitutes the largest independent gathering of ISVs, integrators, consultants, contractors, suppliers, customers and vendors in the public sector IT channel.
Acknowledged as one of the finest custom technology resellers in the U.S., ISO 9001 Certified Ace Technology Partners currently holds the following contracts: NETCENTS 2, SEWP V, NASPO ValuePoint (formerly WSCA), and CMAS (Calif.). It is a Woman-Owned Small Business operating in both the public sector and commercial sector. Channel partners include Intel, Supermicro, NVIDIA, Mellanox and Samsung among others. Ace Technology Partners is an authorized Microsoft Surface Partner. The company has been an industry leader since 1983. In addition to some of the finest academic institutions in the U.S., long-term clients include the U.S. Department of Energy and the U.S. Department of Defense. Its principal, recognized industry expert John Samborski, is an alumnus of Intel's prestigious board of advisors. In addition to its Greater Chicago headquarters, Ace Technology Partners has locations in New Jersey, Pennsylvania, Virginia, and Nevada. To contact Ace Technology Partners, call 1-877-223-2667 or 1-847-952-6900 or visit http://www.acetechpartners.com. For media inquiries, contact Jeanna Van Rensselar at Smart PR Communications; 630-363-8081; jeanna(at)smartprcommunications.com.