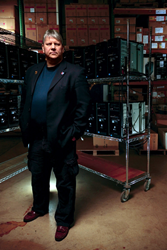 These relationships are key to providing our clients with the level of innovation and quality that they have come to expect of us.
CHICAGO (PRWEB) January 24, 2017
Ace Technology Partners just announced a strategic partnership with IOGEAR that will enable both companies to bring leading-edge TAA compliant products to government and education organizations.
Ace Technology Partners National Director of Sales and Business Development Jaime Albizures said, "IOGEAR has made a commitment to innovate and provide products that will meet government regulations. This designation is important for several reasons. TAA compliancy is a requirement for most government orders; it also increases the likelihood that the products we sell, through IOGEAR, are either made in the U.S. or in countries that are friendly to our trade policies."
The U.S. Trade Agreements Act (TAA) promotes fair and open trade through a number of international trade agreements. It mandates that products bought for public use by government organizations be made--either wholly or primarily--in the U.S. or in free-trade friendly countries.
Although Ace Technology Partners has been selling IOGEAR products for years, this new partnership will allow Ace Technology Partners to sell the complete offering, backed by IOGEAR sales and marketing support. .
Among IOGEAR's offerings are: KVM and KVMP switches; cables; adapters; gaming accessories; mobile accessories; computer accessories (keyboards, mice, cards, etc.); and networking devices.
This IOGEAR partnership comes at an opportune time, just as Ace Technology Partners is preparing to launch an ecommerce site, which will highlight IOGEAR products. An official launch announcement is expected later in the month.
Ace Technology Partners CEO John Samborski said, "We are pleased to welcome IOGEAR to our ever expanding list of valuable partnerships. These relationships are key to providing our clients with the level of innovation and quality that they have come to expect of us over the years."
IOGEAR, an ATEN Technology Company headquartered in Irvine, Calif., manufactures innovative information technology products that are designed to integrate technologies, enable shared resources and decrease clutter. IOGEAR provides organizations with attractive, reliable, high-performance products and solutions that connect devices to improve productivity and efficiency. IOGEAR distributes throughout North America, South America, Europe and Asia.
Acknowledged as one of the finest custom technology resellers in the U.S., ISO 9001 Certified Ace Technology Partners currently holds the following contracts: NETCENTS 2, CCS-2, SEWP V, and NASPO ValuePoint (formerly WSCA), CMAS (Calif.). It is a Woman-Owned Small Business operating in both the public sector and commercial sector. Channel partners include Intel, Supermicro, NVIDIA, Mellanox and Samsung among others. The company has been an industry leader since 1983. In addition to some of the finest academic institutions in the U.S., long-term clients include the U.S. Department of Energy and the U.S. Department of Defense. Its principal, recognized industry expert John Samborski, is an alumnus of Intel's prestigious board of advisors. In addition to its Greater Chicago headquarters, Ace Technology Partners has locations in New Jersey, Pennsylvania, Virginia, Arizona, and Nevada. To contact Ace Technology Partners, call 1-877-223-2667 or 1-847-952-6900 or visit http://www.acetechpartners.com.