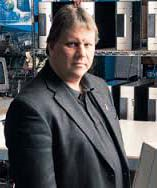 Anyone who understands the rigor of the government and military vetting processes has a greater level of trust in us.
CHICAGO (PRWEB) September 13, 2016
Ace Computers and its affiliate ISO 9001 certified Ace Technology Partners are celebrating 30 years of fulfilling U.S. government and military contracts. The companies hold multiple federal contracts, including elite NETCENTS 2 and SEWP V, that require vetting at the highest level.
Ace Computers CEO John Samborski said, "Our success in the government and military space has translated into increased credibility among corporations and educational institutions in the private space. Anyone who understands the rigor of the government and military vetting processes has a greater level of trust in us. Our long relationship with the public sector is an effective quality and performance guarantee that other technology companies can't offer."
Samborski continued, "There is a myth that government buyers are only looking for the lowest price—that may be true for commodities, but it is not true for the kind of sophisticated technology products we offer. The government, like our private sector clients, wants a quality product delivered on time at a reasonable price from a dependable vendor."
Federal buyers follow a vetting process that is exponentially more rigorous than any that exists in the private sector. In addition, government contractors are assessed after the completion of each project.
The most thorough system for evaluating government contractor performance is CPARS (the Contractor Performance Assessment Reporting System). This is a methodical approach to collecting and managing past performance information about government contractors. These evaluations are available to all government buyers for consideration in future buying decisions. Following are some of the areas that CPARS addresses:

The contractor's operations
Whether the contractor met project deadlines
The production and engineering processes
Management strength
Risk identification and mitigation
Cost and schedule metrics
Product quality
Product durability
Product performance
Quality control program documentation
Schedules and milestones
Safety standard compliance
Labor standard compliance
End user feedback/comments and satisfaction ratings
Any company performing poorly in these areas will not continue to work with federal buyers. And any company, like Ace Computers, that meets or exceeds expectations in all of these areas, will work with the government indefinitely.
"We are extremely grateful for our long relationship with the U.S. government, military, and also state and local governments," Samborski said. "Our private sector clients have the full assurance from the ISO organization and the stamp of approval from the U.S. federal government that we will continue to deliver the highest quality products on time every time."
2016 HPCwire Readers' Choice Award finalist, Ace Computers currently holds the following contracts: SEWP V, GSA, WSIPC, PEPPM, State of Wis., State of Ga. Affiliate Ace Technology Partners holds the following contracts: NETCENTS 2, SEWP V, and NASPO ValuePoint (formerly WSCA), CMAS (Calif.). The company is a Woman-Owned Small Business custom technology systems manufacturer and reseller for the public sector as well as the commercial sector. Channel partners include Intel, Supermicro, NVIDIA, Mellanox and Samsung among others. An industry leader since 1983, the company is a 2015 HPCwire Readers' Choice Award finalist. In addition to some of the finest academic institutions in the U.S., long-term clients include the U.S. Department of Energy and the U.S. Department of Defense. In addition to our Greater Chicago headquarters, Ace Computers has locations in New Jersey, Pennsylvania, Virginia, and Arizona. To contact Ace Computers, call 1-877-223-2667 or 1-847-952-6900 or visit http://www.acecomputers.com/TopProducts.asp