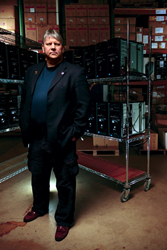 The ability to conduct surveillance with an image that is much closer to the real world than a flat screen results in better decisions that could end up saving lives.
CHICAGO (PRWEB) June 15, 2016
Ace Computers recently unveiled an all-in-one computer workstation with a curved screen. It has a number of great applications, the most important being military and forensics.
Ace Computers CEO John Samborski said, "Two of the challenges with digital forensics are image clarity and discretion. The person reviewing the contents of a perpetrator's computer on a forensic workstation must be careful not to miss anything and, at the same time, protect sensitive information from the eyes of other people that may be in the area. Curved screens address both issues by producing an almost 3D-like picture and limiting what others, who are not immediately in front of the screen, can see." Benefits include:

Curved screens produce an image that is much closer to real world than a flat screen; while the picture on a flat screen allows the viewer to see what is directly in front, a curved screen also fills peripheral vision. The slight bend in a curved screen actually compensates for normal flat screen distortion.
Curved monitors produce a nearly 3D picture without the eye strain and other annoyances of actual 3D viewing. The curvature of the screen magnifies the perception of depth and the sense that there is an actual background and foreground. Experts say they can deliver almost 2x as much perceived content.
Curved monitors nearly eliminate reflection. A flat monitor will pick up more glare from windows and mirrors than a curved screen.
Because curved screens mimic the natural shape of eyes, images look slightly sharper at the edges. This is why more and more cinemas are adding curved screens.
Ace Computers' cutting-edge curved monitor workstation features a 34", 21:9 aspect ratio, 3440 x 1440 resolution curved screen. Other top-of-the-line components include:

Latest Intel high performance processor
Will support most GTX dual slot graphics cards
Up to 32 GB DDR4, dual-channeled memory installed
Up to 2 x 2TB 2.5" hard drives or SSDs
Trusted platform module standard and SMARTcard reader optional
Built in Gigabit LAN and wireless LAN (wireless is removable)
Anti-vibration and acoustically dampened - low noise output
TAA compliant - assembled in the U.S.
Liquid cooling for silent operation.
"Given all these benefits, it's obvious that this is an excellent solution for military applications," Samborski said. "The ability to conduct surveillance with an image that is much closer to the real world than a flat screen results in better decisions that could end up saving lives."
Leading custom computer builder and HPC cluster specialist, Ace Computers currently holds the following contracts: SEWP V, GSA, WSIPC, PEPPM, State of Wis., State of Ga. The company is a Woman-Owned Small Business custom technology systems manufacturer and reseller for the public sector as well as the commercial sector. Channel partners include Intel, Supermicro, NVIDIA, Mellanox and Samsung among others. An industry leader since 1983, the company is a 2015 HPCwire Readers' Choice Award finalist. In addition to some of the finest academic institutions in the U.S., long-term clients include the U.S. Department of Energy and the U.S. Department of Defense. In addition to our Greater Chicago headquarters, Ace Computers has locations in New Jersey, Pennsylvania, Virginia, and Arizona. To contact Ace Computers, call 1-877-223-2667 or 1-847-952-6900 or visit http://www.acecomputers.com/TopProducts.asp
###