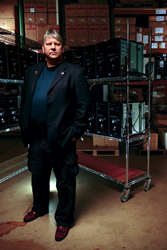 There aren't many cluster builders that can say the person who designed the cluster will be the person who provides support.
CHICAGO (PRWEB) March 09, 2016
Ace Computers is celebrating 10 years of building HPC clusters for research facilities at universities. This makes the company one of the most experienced cluster builders in the industry. Long-term higher ed clients include the University of Colorado and North Carolina State.
Ace Computers' purpose-built HPC clusters cover a wide spectrum of applications and deployments: from SMB clusters with only a few nodes to some of the fastest, most powerful HPC clusters in the world.
Ace Computers CEO John Samborski said, "We are very proud of the fact that we have been the go to source for clusters for a decade, not just for universities but also for government institutions and corporations."
Since 1996, Ace Computers has been building, deploying, and supporting HPC clusters for a full range of applications; the company's solutions are powered by some of the world's fastest processors and the best proven technology in areas such as memory, storage, recovery, and audio/video.
Ace Computers' HPC clusters are living longer in datacenters, research labs, universities and military facilities. The lifespan of these products is directly related to the competence and diligence of the company's engineering staff.
Ace Computer's goal is to enable the client to start using the cluster on the day they deliver it. They work hard to ensure that each client is comfortable with the equipment and knows how to use it from day one. This means that their clients don't need to be concerned about whether or not their internal tech team can handle an HPC cluster.
Ace Computer's motto is: We never put our clients on hold. When clients call for support, they won't be stuck in a long queue that eats up their valuable time. The person that answers the call will very likely be one of the engineers that designed and deployed the system—someone very familiar with the cluster.
"We develop a personal relationship with each of our cluster clients," Samborski said. "We want them to think of our support staff as their support staff. There aren't many cluster builders that can say the person who designed the cluster will be the person who provides support. That just doesn't happen when you buy a cluster from a big company."
Leading custom technology builder and HPC specialist, Ace Computers currently holds the following contracts: SEWP V, GSA, WSIPC, PEPPM, State of Wis., State of Ga., CMAS (Calif.). The company is a Woman-Owned Small Business custom technology systems manufacturer and reseller for the public sector as well as the commercial sector. Channel partners include Intel, Supermicro, NVIDIA, Mellanox and Samsung among others. An industry leader since 1983, the company is a 2015 HPCwire Readers' Choice Award finalist. In addition to some of the finest academic institutions in the U.S., long-term clients include the U.S. Department of Energy and the U.S. Department of Defense. In addition to our Greater Chicago headquarters, Ace Computers has locations in New Jersey, Pennsylvania, Virginia, and Arizona. To contact Ace Computers, call 1-877-223-2667 or 1-847-952-6900 or visit http://www.acecomputers.com/TopProducts.asp
###