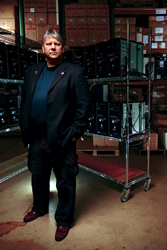 Our clients are able to take advantage of our strong hardware and software partnerships for integrating the smartest components for their HPC clusters.
CHICAGO (PRWEB) March 24, 2016
Ace Computers, one of the fastest growing HPC cluster builders in the U.S., just reached the 20-year mark of building HPC clusters for government, military, and business.
Since 1996, Ace Computers has been designing, building and supporting some of the world's finest HPC clusters. They have more experience that nearly every other cluster provider in the U.S. and they are also one of the most respected HPC cluster builders for reasons that include:

Expertise & Experience: In addition to two decades of experience, they have a thorough knowledge of what is available and what makes the most sense. This gives clients many advantages including access to a broad portfolio of hardware and software options. Ace Computers always designs with performance in mind.
Customized Clusters and Solutions: After fully assessing each client's requirements, Ace Computers builds the best performing system for the budget. The components can be upgraded to accommodate future technology and extend the system's life.
Turnkey Solutions: They arrange full remote testing before they release the cluster for shipping. If requested, they install and deploy the system onsite.
Industry-Leading Service & Support: The above average lifespan of their HPC clusters is directly related to the expertise and attentiveness of Ace Computers' engineering staff. They support clients every step of the way—before, during and after the install.
Ace Computers' clusters offer the following benefits:

Processing Speed: Multiple high speed nodes work together to provide unified processing and faster speed. These networks create a highly efficient and effective infrastructure that prevents logjams.
Flexibility: Clusters can be easily upgraded and expanded.
High Resource Availability: If one node fails, the other nodes will continue to process data uninterrupted.
Cost Effectiveness: Cluster configurations deliver outstanding power and processing speed for the money.
Primary uses for the company's HPC clusters include: simulation/modeling; prototype design; existing design optimization; analytics; algorithm development; speeding productivity; data management (protection, storage, retrieval…); structured data analysis; Big (unstructured) Data analysis; and digital graphics design and implementation.
Ace Computers President and CEO John Samborski said, "Our clients are able to take advantage of our strong hardware and software partnerships for integrating the smartest components for their HPC clusters."
Leading custom technology builder and HPC specialist, Ace Computers currently holds the following contracts: SEWP V, GSA, WSIPC, PEPPM, State of Wis., State of Ga., CMAS (Calif.). The company is a Woman-Owned Small Business custom technology systems manufacturer and reseller for the public sector as well as the commercial sector. Channel partners include Intel, Supermicro, NVIDIA, Mellanox and Samsung among others. An industry leader since 1983, the company is a 2015 HPCwire Readers' Choice Award finalist. In addition to some of the finest academic institutions in the U.S., long-term clients include the U.S. Department of Energy and the U.S. Department of Defense. In addition to our Greater Chicago headquarters, Ace Computers has locations in New Jersey, Pennsylvania, Virginia, and Arizona. To contact Ace Computers, call 1-877-223-2667 or 1-847-952-6900 or visit http://www.acecomputers.com/TopProducts.asp
###