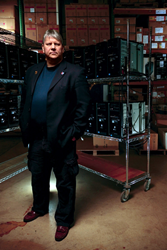 We promise an optimal combination of quality products, prompt delivery, and a competitive price backed by prompt support; we don't put our clients on hold.
CHICAGO (PRWEB) July 12, 2016
With major federal/military SEWP V and NETCENTS 2 contracts, Ace Computers, along with its affiliate Ace Technology Partners, announced its best federal buying season to date.
Ace Technology Partners holds a USAF NETCENTS 2 contract (#FA8732-13-D-0014) to provide servers and storage, networking equipment, peripherals, software, multimedia, and identity management/biometric hardware and associated software.
Both Ace Technology Partners and Ace Computers hold NASA SEWP V contracts. Through SEWP V Group C contract # NNG15SC58B, Ace Technology Partners is providing a broad range of IT products and services that includes: servers, workstations, security, software, networking, data acquisition, power, installation, maintenance, and support. Through Group A contract # NNG15SC01B, Ace Computers is providing HPC clusters, workstations, desktops, servers, complex datacenter solutions, IT peripherals, software, and associated services such as installation, training, and maintenance.
With almost 35 years of experience working with the federal government and military, Ace Computers/Ace Technology Partners is known for streamlined procurement, quality production (DOA rate less than 1%), on-time delivery, value, and highly accessible support.
Ace Computers CEO John Samborski said, "We promise an optimal combination of quality products, prompt delivery, and a competitive price. We back that up with industry-leading support that is respectful of our clients' time—meaning when they call for help, we don't put them on hold."
An AFB Mission Planning Systems Hardware Manager said, "They won the award with a superior product and a competitive price. Based on the work they have already done for us, we would be confident making additional purchases from them. And because we are very pleased with the products they've built for us, we would be happy to recommend them to others."
Custom technology systems manufacturer and reseller Ace Computers and custom technology reseller Ace Technology Partners are Woman-Owned Small Businesses serving the public sector as well as the commercial sector. An industry leader since 1983, the companies are 2015 HPCwire Readers' Choice Award finalists. CEO and recognized industry expert John Samborski is an alumnus of Intel's prestigious board of advisors. In addition to their Greater Chicago headquarters, the companies have locations in New Jersey, Pennsylvania, Virginia, and Arizona. To contact Ace Computers/Ace Technology Partners, call 1-877-223-2667 or 1-847-952-6900. Visit http://www.acecomputers.com or http://www.acetechpartners.com.