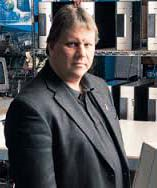 The goal is to gather/download the evidence, preserve it during the process, and document the chain of possession so that it can be used as evidence in court.
Chicago (PRWEB) September 22, 2016
Ace Computers just announced an unprecedented series of forensic workstation orders from organizations such as the IRS. Other entities that have purchased significant numbers of forensic workstations from Ace Computers and its affiliate Ace Technology Partners include the Pentagon, the Securities and Exchange Commission, and the New York State Troopers.
The company also developed a highly customized forensic workstation for the Department of the Interior, which took advantage of the many hardware and software features that Ace Computers typically customizes such as write-blockers--critical for preserving a chain of evidence that will hold up in court.
Ace Computers is quickly becoming a leading forensic workstation developer and builder. A big part of the reason is CEO John Samborski—widely recognized as an expert in the field of forensic technology.
"In many regards, digital forensics is no different than physically processing a crime scene," Samborski said. "The goal is to gather/download the evidence, preserve it during the process, and document the chain of possession so that it can eventually be used as evidence in court."
Computer forensics comes into play in almost every area of crime, but tax fraud is one of the primary beneficiaries of this technology. The IRS is renowned for its digital forensic capabilities; among the key tools that IRS Criminal Investigation (CI) agents use are forensic workstations capable of recovering financial data that may have been password protected or encrypted. Partly because of forensic workstations, the CI division has one of the highest conviction rates in federal law enforcement.
In recent years, the incidence of computers seized during IRS enforcement actions has risen from 5% of cases to 95% of cases; the number of computers at each scene has risen as well. Today's agents are likely to encounter multiple computers, often linked together in a network, each having the capacity to hold the equivalent of a warehouse of paper data.
It is not just the content of emails, documents and other files which may be of interest to investigators but also the metadata associated with those files. For example, a digital forensic examination may reveal when a document first appeared on a computer, when it was last edited, when it was last saved or printed and which user carried out these actions.
In addition to the IRS, other organizations use forensic workstations in actions that involve:

Intellectual property theft
Industrial espionage
Employment disputes
Fraud investigations
Forgeries
Bankruptcy investigations and
Regulatory compliance
The workstations continue to evolve with the technology—for example they are continually processing data faster. One of the reasons that the speed of forensic workstations is becoming more important is an emerging judicial trend of setting deadlines for the examination of seized material. The prolonged seizure of computers containing business or personal financial information can cause a real loss that is unrelated to, but caused by, the investigation. This means that there is potential for the suppression of evidence.
"More and more organizations are realizing the value of forensic workstations," Samborski said. "For example, they are quickly becoming a staple in law offices and even businesses that want to minimize their legal exposure."
Leading custom computer builder and HPC cluster specialist, Ace Computers currently holds the following contracts: SEWP V, GSA, WSIPC, PEPPM, State of Wis., State of Ga. The company is a Woman-Owned Small Business custom technology systems manufacturer and reseller for the public sector as well as the commercial sector. Channel partners include Intel, Supermicro, NVIDIA, Mellanox and Samsung among others. An industry leader since 1983, the company is a 2015 HPCwire Readers' Choice Award finalist. In addition to some of the finest academic institutions in the U.S., long-term clients include the U.S. Department of Energy and the U.S. Department of Defense. In addition to our Greater Chicago headquarters, Ace Computers has locations in New Jersey, Pennsylvania, Virginia, and Arizona. To contact Ace Computers, call 1-877-223-2667 or 1-847-952-6900 or visit http://www.acecomputers.com/TopProducts.asp