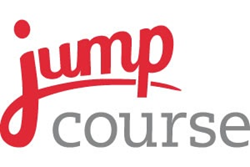 This recommendation for credit by ACE demonstrates that JumpCourse provides online college courses that offer a clear path to college credit.
Las Vegas, Nevada (PRWEB) November 05, 2014
JumpCourse, an online provider of college courses, today announced that the American Council on Education's College Credit Recommendation Service (ACE CREDIT) has evaluated and recommended college credit for four of the company's courses. ACE, the major coordinating body for all the nation's higher education institutions, seeks to provide leadership and a unifying voice on key higher education issues and to influence public policy through advocacy, research, and program initiatives.
"Saving time, lowering the cost of college, paving the path to graduation – students win with this one," Amy Fitzgerald, vice president of marketing for JumpCourse, said. "This recommendation for credit by ACE reassures students, as well as colleges and universities, that our online college courses are rigorous and offer a clear path to college credit."
ACE CREDIT helps adults gain academic credit for courses and examinations taken outside traditional degree programs. More than 2,000 colleges and universities consider ACE CREDIT recommendations in determining the applicability of coursework and examination results to their courses and degree programs.
For 40 years, colleges and universities have trusted ACE CREDIT to provide reliable course equivalency information to facilitate their decisions to award academic credit. For more information, visit the ACE CREDIT website.
About JumpCourse
With the rising cost of education, JumpCourse was designed to help students save money and graduate in four years by earning college credit at thousands of colleges and universities nationwide. Online interactive college courses prepare students to earn college-by-examination credits (such as CLEP). Recognized by the Bill and Melinda Gates Foundation for Adaptive Learning, recipient of three prestigious Telly Awards for superior video content, and a finalist for the Robin Hood College Success Prize, JumpCourse delivers professionally designed and motivating courses that give students another path to graduating from college on time and with lower college debt. For more information, visit jumpcourse.com.
About ACE
Founded in 1918, ACE is the major coordinating body for all the nation's higher education institutions, representing more than 1,600 college and university presidents and more than 200 related associations nationwide. It provides leadership on key higher education issues and influences public policy through advocacy. For more information, please visit http://www.acenet.edu or follow ACE on Twitter @ACEducation. American Council on Education