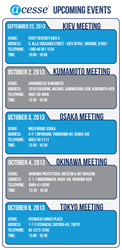 Minneapolis, MN (PRWEB) September 09, 2013
Acesse heads to Asia for another round of meetings; Founder Steve Renner, President Bob Kinsella, and Top Sales Leader Annie Zhang will be visiting Ukraine and Japan to host five Business Opportunity meetings.
The meetings will be held in Kiev, Ukraine and in the following prefectures of Japan: Kumamoto, Osaka, Okinawa, and Tokyo. It will be Acesse's first time visiting Ukraine for a meeting. Further details of the meetings can be found by logging into Acesse's Back Office or visiting Steve Renner's blog.
New, existing, and future members are encouraged to attend the meetings to learn more about Acesse's newest products and services, network with some of the brightest marketers in the area, and meet the President and Founder of Acesse. Attendees will also be able to meet some of the local Acesse Top Sales Leaders.
Acesse.com is a division of Acesse Corporation, and is registered under the laws of the state of Nevada, USA. Acesse.com provides search, advertising, and marketing services to small businesses and individuals around the world.