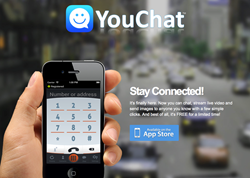 Minneapolis, MN (PRWEB) December 31, 2013
Acesse recently announced the upcoming launch of YouChat, its first smartphone messaging app where users can take advantage of unlimited messaging, audio chat, and capturing and sending movies. This simple-to-use technology will be available to the public in early 2014. Steve Renner, Owner and Founder of Acesse, announced at the Company's Annual Las Vegas Conference the exciting features of YouChat.
Users can register, login, create contact lists, and start sending voice, video and text messages and photos for free with a few simple clicks. YouChat also features Express Chat where users have the ability to send messages for a specific number of seconds before the message disappears.
"Don't worry about learning how to use a new app," said Renner, "YouChat's interface makes it as easy as making a basic phone call on your phone a cost-free reality."
YouChat is a cross-platform product and supports all iOS and Android devices. Currently, YouChat is only available in English but will be available in Chinese, Russian, and Japanese in the future.
Acesse.com is a division of Acesse Corporation, and is registered under the laws of the state of Nevada, USA. Acesse.com provides search, advertising, and marketing services to small businesses and individuals around the world.