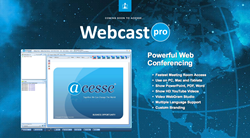 "WebcastPro is so easy a child can do it," said Renner, "this is the communication tool of the future."
Minneapolis, MN (PRWEB) December 12, 2013
WebcastPro, Acesse's new webcasting solution, is one of the many exciting new product releases coming from Acesse. Steve Renner, Owner and Founder, declared at Acesse's Annual Las Vegas Conference that the Company would be launching many new, impressive products in Q1 2014.
Tom Eagar, developer of the WebcastPro system, delivered a product demonstration at the conference. Eagar showed a delightful demonstration of his 11-year-old daughter, Samantha, using WebcastPro with her friends in her custom designed 'Girls Only Barbie Club' room. "WebcastPro is so easy a child can do it," said Renner, "this is the communication tool of the future."
WebcastPro is an efficient virtual communication tool for any individual to host a meeting or presentation with 1 guest, 100 guests, or up to 1,000 guests. It allows you to engage with customers, business associates, co-workers, employees, partners, and friends without the hassle and expense of traveling.
With Acesse's newest webcasting solution users can utilize its top features, which include but are not limited to: sharing rich-media communications, playing HD videos, recording presentations for later viewing, storing up to 30 recent presentations, giving one or more guests access to specific room features, allowing guests to download any shared files while being logged in or logged out of the live meeting in the Document Center, annotate, point, and draw attention while displaying PDFs and Slideshows, and many more beneficial features. Even more impressive, is that participants are not required to use the telephone, and can talk live using their microphone or built in web microphone using VOIP. WebcastPro will be available in multiple languages and for use on any PC, Mac, smartphone, and tablet.
"The exact launch date for WebcastPro has not been determined yet, but it is in the final stages of development and will be available in Q1 2014," said Renner.
Acesse.com is a division of Acesse Corporation, and is registered under the laws of the state of Nevada, USA. Acesse.com provides search, advertising, and marketing services to small businesses and individuals around the world.