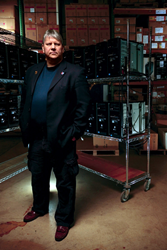 CHICAGO (PRWEB) April 12, 2016
Ace Technology Partners, one of the leading custom computer storage resellers and integrators in the U.S, was awarded a major order of custom ruggedized, portable NAS boxes by the U.S. Air Force's Air Combat Command (ACC). This is the second major ACC order for the devices.
One of the hallmarks of working with ACC is their attention to detail—this is not an issue for Ace Technology Partners, which is known for meticulous builds. Ace Technology Partners provided a prototype device that was scrutinized by ACC before the rest of the order was fulfilled. Once the order was complete, ACC thoroughly inspected every item before shipment.
Ace Technology Partners Regional Sales Manager Gary Mosso explained, "They open up the cases to make sure everything is included and that everything is benchmarked according to specs. The vetting is very, very thorough. They do their homework. One of the reasons we received the second order was that there were no issues with the earlier order. I know they were impressed."
The devices (per ACC: mobile mass storage solutions), which are about the size of carryon luggage, are compact and portable and include a wheeled ruggedized custom transit case. Since ACC has operations all over the world, the devices must be able to store all of ACC's relevant data and allow access anywhere--from an airplane to a Jeep. Because there is some secrecy involved, the storage devices must be secure and have no wireless capability and no volatile memory--nothing that an unauthorized person could access.
Immediately after ACC received the first order, personnel asked for more of the NAS storage devices, but ACC didn't have the budget. "This year, they originally thought they were going to have to order a smaller quantity, but they were able to get additional funding and order what they needed," Mosso said.
Ace Technology Partners' ruggedized portable NAS storage boxes are an excellent solution for any organization that has important data they can't afford to lose or where secrecy is paramount and there are multiple locations. They are also a great disaster recovery back-up.
The ACC builds are the result of a collaboration between Ace Technology Partners and Ciphertex. In addition to the two large orders for ruggedized NAS storage boxes, Ace Technology Partners has also built custom high-end workstations for the U.S. Air Force's Air Mobility Command (AMC).
Air Combat Command, is headquartered at Virginia's Joint Base Langley-Eustis and is a major installation. It was created June 1, 1992, by combining Strategic Air Command and Tactical Air Command. ACC is the primary provider of air combat forces to America's war fighting commanders.
Acknowledged as one of the best custom technology resellers in the U.S., Ace Technology Partners currently holds the following contracts: NETCENTS 2, SEWP V, and NASPO ValuePoint (formerly WSCA). It is a Woman-Owned Small Business operating in both the public sector and commercial sector. Channel partners include Intel, Supermicro, NVIDIA, Mellanox and Samsung among others. The company has been an industry leader since 1983. In addition to some of the finest academic institutions in the U.S., long-term clients include the U.S. Department of Energy and the U.S. Department of Defense. Its principal, recognized industry expert John Samborski, is an alumnus of Intel's prestigious board of advisors. In addition to its Greater Chicago headquarters, Ace Technology Partners has locations in New Jersey, Pennsylvania, Virginia, and Arizona. To contact Ace Technology Partners, call 1-877-223-2667 or 1-847-952-6900 or visit http://www.acetechpartners.com.
###