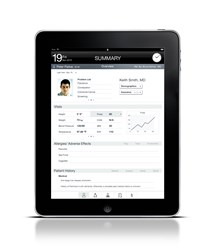 The enki ASC platform makes us a one-stop-shop for Ambulatory Surgery Centers.
Ann Arbor, MI (PRWEB) October 11, 2013
Focused on improving the delivery of healthcare with effective and efficient healthcare IT and management solutions, NextServices will present enki ASC, an integrated mobile platform targeted towards gastroenterology surgery centers and practices at the upcoming American College of Gastroenterology Annual Conference (ACG) at the San Diego Convention Center, in San Diego, CA.
enki ASC solution includes a management platform for gastroenterology-based ambulatory surgery centers and a new iPad app for managing endoscopy images. It is specifically designed to tackle the difficulties posed in a modern ASC. A gastroenterologist can now use a built-in endoscopy writer that captures endoscopy images, automatically documents clinical procedures and prepares precise operative notes. Specific tracking modules help document anesthesia administration prior to, during and post procedure. Administrators and clinical assistants can utilize integrated surgery safety modules and adhere to global standards of ambulatory care. The iPad app allows gastroenterologists to make notes on endoscopy images, even while on the
move.
"With years of experience, NextServices has specialized in maximizing revenues for gastroenterology practices and surgery centers all over the nation by providing exceptional revenue cycle management services using superior cloud-based technology. The enki ASC platform makes us a one-stop-shop for ambulatory surgery centers. We chose ACG2013 to showcase our latest achievements to allow gastroenterologists experience the future," said Satish Malnaik, CEO and Co-founder, NextServices, Inc.
As a cloud-based platform, enki ASC does not require centers to invest in expensive servers and IT staff. The platform also integrates billing services including benefits and authorization and state-reporting.
"Working extensively with gastroenterology surgery centers provided us with deep insight into administrative and clinical roadblocks. We designed the enki ASC platform for simplicity from the ground-up. Together with its iPad extension, enki helps physicians and their staff get greater control over their centers without being bogged down by needless documentation," said Praveen Suthrum, President and Co-founder, NextServices, Inc.
Attendees can experience enki ASC on the exhibit floor at Booth 1326, October 13-15, 2013 at ACG2013.
About ACG
More than 12,000 physicians from 86 countries are members of the ACG. Through annual scientific meetings, The American Journal of Gastroenterology, regional postgraduate training courses and research grants, the ACG provides its members with the most accurate and up-to-date scientific information on digestive health and the etiology, symptomatology and treatment of GI disorders.
About NextServices
NextServices is one of the leading providers of cloud-based revenue cycle management services and healthcare delivery solutions. Bringing an innovative approach to combining technology and services, NextServices offers a seamlessly integrated platform of web based and mobile software. NextServices state of the art solutions for specialist healthcare providers deliver superior value for small / mid-sized specialty practices and to ambulatory surgery centers. For more information contact (866) 648-6314 or visit the company's websites at http://www.nextservices.com and http://www.nextservices.com/enki.