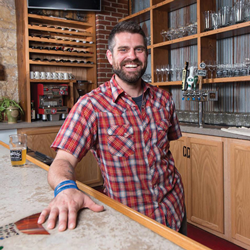 "We chose Luke Zahm as keynote speaker because he's approaching the industry in a new way," says Gail Holmberg, Fortium Partners, ACG Chicago Food Conference Committee Co-Chair. "His creative passion for the people and stories behind food is shaping the industry."
CHICAGO (PRWEB) July 25, 2019
The Association for Corporate Growth Chicago, the city's leading networking group for Middle Market M&A dealmakers and business leaders, has announced the Keynote Speaker for their 10th Annual Food Industry Conference to be chef, restaurant owner, James Beard Award semifinalist, and TV show host Luke Zahm. His restaurant, The Driftless Café in Viroqua, Wisconsin offers a farm-to-table menu made with ingredients from local organic farms. After being featured in the past few seasons of the Emmy award-winning TV show "Wisconsin Foodie," Zahm will take over as host beginning in January 2020.
Zahm is at the forefront of food culture, and conference attendees will hear his powerful insights firsthand. "We chose him as keynote speaker because he's approaching the industry in a new way," says Gail Holmberg, Fortium Partners, ACG Chicago Food Conference Committee Co-Chair. "His creative passion for the people and stories behind food is shaping the industry."
Zahm's passion for the cultural aspects of food can be seen both in his cooking and his activism. The revolution of organic food has transformed his rural farming community and fueled his involvement in Washington, D.C., where he works to protect local farmers. "Zahm has been in D.C. talking to senators, showing them the struggles that rural farmers are facing. He's given input on the Farm Bill and GMO labeling. We're excited for him to share his experience with our attendees and to inspire activism in Chicago and beyond," said Holmberg.
The Food Industry Conference will be held at the W Chicago Hotel City Center on September 26, 2019 from 11:30 am to 6:30 pm. A Food Startup Pitch Slam will be held prior, from 9:00 am to 11:30 am. The conference will include an afternoon filled with presentations from food sector industry leaders, networking lunch with various food stations, concluding with a reception. The conference draws M&A professionals from the food industry as well as brands and distributors. To purchase tickets, please visit https://cvent.me/Roq73.
About ACG Chicago
ACG Chicago is a leader in the Association for Corporate Growth (ACG) global network. With over 1,000 members, ACG Chicago unites corporate executives, capital sources, corporate advisors and service providers in a diverse and knowledgeable professional network. ACG Chicago engages its members through unparalleled opportunities for networking, deal making, personal growth, and professional development.
Contact us:
Email: networking(at)acgchicago(dot)org
Phone: 877-224-6389
Stay connected:
Facebook: https://www.facebook.com/acgchi
Twitter: https://twitter.com/acgchicago
LinkedIn: https://www.linkedin.com/company/acg-chicago