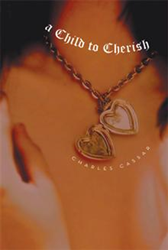 An intriguing tale that will keep readers guessing from beginning to end.
United States (PRWEB) June 23, 2014
Chris Burton was thinking as to what was happening and whom he was trusting to anger the author of a letter sent to him with a remark on it 'Did the letter sender sign the letter?' 'Initials maybe,' he whispered. He still had the letter and the envelope with him, so he searched for any sign of name or initials. 'Undoubtedly whoever sent it, wanted it to be picked up on my birthday,' Chris muttered to himself.
"A Child to Cherish", a riveting fictional novel written by author Charles Cassar, tells a powerful story of secrets, lies, deception, murder, and redemption. Chris Burton is a very wealthy and successful man. He had seen so much in life but is also determined to let the past go. He is desperately in love with Vera who, at 36 years old, is a very attractive lady. She was able to pin down Chris with her charm and supple body. Everything looks fine for the Burton family until on his birthday, Chris received a mysterious letter with an intriguing remark on it.
Chris got so curious that he decided to search for someone or something that might shed some light in this matter. He must find out who sent the letter. He meets with Mr. Robert Owens, the handwriting expert from the Detroit Police Department and told him that he had found a perfect match of the handwriting in the letter. Mr. Owens told him that the letter sender seemed to be very agitated at the time of writing the letter. A left-handed woman posted the letter in Chicago.
Chris is also intrigued by the fact that he saw his wife Vera enter a clinic on Lambert Street. He was confused and did not have any idea what to make of this situation. He decided to investigate further and came across a certain Dr. Derrick Matthews, an expert on reconstructive surgery. Chris was becoming jittery about the situation. He wanted to come to the bottom of all this. He was feeling tense since the day he had received the mysterious letter. Chris went to Dillon Craig Corporation in Chicago to trace the watermarks on the paper. He meets with Megan Tavey, who was a Relations Executive with Dillon Craig. But who is Megan Tavey? Could she be the author of the letter? Could she be Vera's relative? What is Vera doing on a reconstructive surgery clinic? What other secrets will Chris unravel?
"A Child to Cherish" is an intriguing tale that will keep readers guessing from beginning to end. A story full of twists and turns, this page-turner of a read packs a lot of mystery and drama as the plot thickens and reaches its climatic conclusion. Probably a bestseller in the making, this fictional novel is set to entertain suspense mystery aficionados.
For more information on this book, interested parties may log on to http://www.XlibrisPublishing.co.uk.
A Child to Cherish * by Charles Cassar
Publication Date: 11/11/2013
Trade Paperback; $12.95; 178 pages; 978-1-4836-9980-6
Ebook; $6.38; 978-1-4836-9981-3
Members of the media who wish to review this book may request a complimentary paperback copy by contacting the publisher at 800-056-3182. To purchase copies of the book for resale, please fax Xlibris at 44-203-006-8880 or call 800-056-3182.
For more information, contact Xlibris at 800-056-3182 or on the web at http://www.XlibrisPublishing.co.uk.