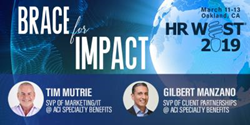 SAN DIEGO (PRWEB) February 15, 2019
ACI Specialty Benefits, a top-ranked global benefits provider, is excited to announce that Senior Vice President of Marketing/IT Tim Mutrie and Senior Vice President of Client Partnerships Gilbert Manzano will be presenting "Brace for Impact: Action Plan for When Disaster Strikes," at HR West 2019 on Monday, March 11, at 2:35 PM.
In 2018 alone, the U.S. experienced more than 330 mass shootings, 18,800 structures were destroyed and more than 85 people lost their lives in California's deadliest wildfire, and overdoses became the number one killer of Americans younger than 50. According to the Federal Emergency Management Agency (FEMA), 40% of businesses never reopen after a natural disaster, and of those that do, only 29% are still operating two years later.
Instead of waiting for a crisis to happen, organizational leaders need to prepare, protect their people and protect the business. In this dynamic session, Mutrie and Manzano will get real about the impact of crisis at the workplace, review a harrowing case study, and provide an action plan for HR leaders to bring back to their workplaces. HR West Conference attendees will walk away with five key areas of crisis readiness to mitigate risk, build resilience and protect the workforce in the event of critical incidents, natural disasters and workplace violence.
Use promo code "PRESENTER19" to receive $100 off conference registration. Click here to register.
The HR West Conference is produced by Next Concept HR Association, the second-largest HR association in the United States. Convening annually for 35 years in the San Francisco Bay Area, the conference includes three days of learning, networking and inspiration with more than 80 concurrent sessions.
About Gilbert Manzano
As SVP of Client Partnerships for ACI, Gilbert Manzano manages consultation services for ACI's client portfolio on a range of HR issues including employee development and crisis management to positively impact productivity, retention and business performance. Honored as a 2018 Stevie Award Winner as HR Executive of the Year, Manzano is adept at driving strategies in the areas of employee engagement, organizational change, benefit plan design, talent acquisition, and critical incident response.
About Tim Mutrie
As SVP of Marketing/IT for ACI, Tim Mutrie leads ACI's award-winning IT and marketing teams in delivering next-generation engagement and benefits technology for customers worldwide. Mutrie, an award-winning, 20-year industry veteran, brings powerhouse engagement and digital strategies to the benefits world. Mutrie is highly experienced in creating benefit solutions built for the new workforce and leads the marketing team in web development, SEO, SEM, social media, public relations, video production, PPC, and digital marketing strategies.
About ACI Specialty Benefits
ACI Specialty Benefits offers best-in-class benefit solutions to engage the new workforce and drive business performance. A top-ranked global benefits provider of Employee Assistance Programs, Work-Life Benefits, Corporate Concierge, Crisis Services and Student Assistance Programs, ACI consistently helps customers achieve Healthiest Workplace awards, Best Place to Work rankings, and improve engagement, retention, productivity and performance. Founded in 1983 and headquartered in San Diego, ACI has grown to international prominence with a 95% customer retention rate and 12 million lives covered. For more information about innovative employee benefit solutions, visit http://www.acispecialtybenefits.com.