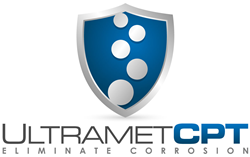 We are truly excited about bringing this technology to the marketplace to solve some of industry's most challenging corrosion issues when dealing with hot strong acids.
Pacoima, CA (PRWEB) August 11, 2014
Ultramet CPT today announced the availability of an innovative tantalum diffusion technology that eliminates corrosion from some the most aggressive chemical and acid environments. Utilizing Ultramet's 40+ years of experience in chemical vapor deposition of refractory metals, Ultramet spun off Ultramet CPT (Corrosion Protection Technologies) with the specific focus of providing industry the unmatched corrosion resistance of tantalum at an affordable price.
To convert the earth's raw materials into modern materials, strong acids like hydrochloric acid (HCl) and sulfuric acid (H2SO4) are used extensively throughout the chemical processing, oil & gas, mining, food & pharmaceutical, energy storage and bio-mass/bio chemical industries to name a few. To run these processes more efficiently, stronger chemistries, hotter temperatures and elevated pressures are used. As a result, materials are being pushed beyond their limits and this is where Ultramet CPT is well positioned to help.
Ultramet CPT's technology begins with tantalum metal; a metal with unmatched corrosion resistance but generally cost prohibitive. Having the ability to take this unique metal and grow it into and on top of standard and readily available process equipment to create acid resistant heat exchangers, acid resistant valves, acid resistant fittings, acid resistant flow meters, acid resistant rupture discs, instrumentation and custom equipment. Ultramet CPT is able offer the industry a product that does not just resist acid corrosion but eliminates it completely. Furthermore, Ultramet CPT's technology is cost competitive with typical corrosion resistant alloys.
"We are truly excited about bringing this technology to the marketplace to solve some of industry's most challenging corrosion issues when dealing with hot strong acids. We feel this is a step change in what has historically been available and will be an enabling technology for many new applications," said Andrew Duffy, the President of Ultramet CPT.
With decades of experience, Ultamet CPT has the ability to precisely control this technology to offer the following products:
Ultra-Metal
"For Corrosion Elimination – The most effective surface to eliminate corrosion from strong hot acids like HCl or H2SO4. The surface is typically grown 50um thick on standard stainless steel process equipment. Thickness could range from 10um to several millimeters."
Ultra-Tough
"For Wear & Corrosion Protection – An extremely hard and wear-resistant surface is combined with our tough tantalum diffusion alloy. The result is an extremely hard, tough and corrosion resistant surface which is ideal for applications with corrosion problems and wear related issues."
Ultra-Safe
"For Lethal Services – When safety is #1 and the best performance is needed. Ultra-Safe utilizes a nickel alloy as a base for the tantalum surface providing multiple layers of protection. This enables engineers to utilize a familiar base material and enjoy the unmatched corrosion resistance of tantalum metal. This minimizes risk and drastically improves performance."
Ultra-Nano
"For Critical Tolerances - This product produces a thin film ranging from 1-5um thick; virtually unchanging the dimensions. It is ideally suited for extremely corrosive environments in controlled or static applications or where dimensional change of the final product is not desired."
About Ultramet CPT
Ultramet CPT focuses on producing the most corrosion resistant tantalum surfaces available to eliminate corrosion from high value process equipment. This is achieved through Ultramet CPT's unique technology that diffuses and grows tantalum metal into and on top of standard process engineering equipment. Ultramet's technology provides industry the unmatched corrosion resistance of tantalum metal, in usable forms and at competitive prices to specialty alloys like nickel alloys.
The end result: corrosion is eliminated with a performance that far surpasses specialty alloys at a price that is similar to them. This saves customers time and money by enabling improved throughputs, larger processing windows, more uptime and asset protection.
Ultramet CPT is a spin-out of Ultramet, a company with 40+ years of experience in refractory metal chemical vapor deposition (CVD). Leveraging Ultramet's vast technical capabilities and engineering knowledge in producing complex medical and aerospace products, Ultramet CPT was formed to specifically address the challenges of the corrosion industry. Ultramet CPT is an ISO9001:2008 manufacture located in California with over 77,000 sq. ft of industrial space producing tantalum diffusion surfaces with the highest quality, reliability, performance, and corrosion resistance in the world.