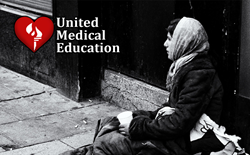 In addition, our representatives have also been looking to work with other local charities to meet the immediate needs of the specific populations
Los Angeles, CA (PRWEB) November 25, 2014
The founders of United Medical Education, a company that provides PALS, BLS and ACLS online certification courses, are proud to announce that they are expanding their charitable teaching and training efforts to South America.
As a spokesperson for United Medical Education explained, in addition to offering people the chance to complete their ACLS recertification online, as well as their PALS certification and BLS certification all from the comfort of home, the company is also committed to providing charitable medical services and training to impoverished regions of the world.
Although United Medical Education has offered free emergency training online to low-income individuals from different counties for some time, the founders of the company understand that not everyone has access to a computer. Because of this, the company is now making a strong push to bring that same training to those who don't have access to a computer or the Internet, and who live in more secluded and poverty-stricken regions.
With this goal in mind, the company has already sent members of their organization to Peru, Columbia and Brazil. While they are there, the members will find and establish project in low-income communities who can benefit from their medical courses.
"They will be providing one-on-one emergency medical training to individuals who normally wouldn't have access to such care," the spokesperson for the ACLS online certification company noted, adding that this training includes CPR and other basic techniques that can be implemented by relatively untrained emergency responders.
"In addition, our representatives have also been looking to work with other local charities to meet the immediate needs of the specific populations."
Anybody who would like to learn more about United Medical Education is welcome to visit their user-friendly website at any time; there, they can enroll in the PALS, BLS and/or ACLS renewal online courses. In most cases, people are able to complete the course in less than an hour, and have their provider card delivered to them both online and through snail mail.
About United Medical Education:
United Medical Education is the official online ACLS, PALS, and BLS certification provider. They educate their students in life saving techniques that are implemented in the event of a heart attack, stroke, or respiratory failure. They also provide charitable medical services and education in poverty-stricken areas of the world.