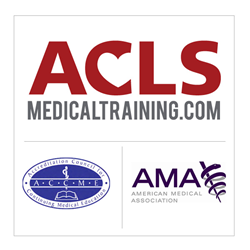 The fact that we can now offer our users AMA PRA Category 1 Continuing Medical Education Credits™ just proves it.
LOS ANGELES, CALIFORNIA (PRWEB) October 27, 2014
ACLS Medical Training is the first online ACLS, PALS, and BLS certification company to provide American Medical Association and American Dental Association continuing medical education credits. ACLS Medical Training worked with professional education providers accredited by the Accreditation Council for Continuing Medical Education to vet the educational materials and examinations on the site. With this development, users who enroll for certification and recertification with ACLS Medical Training can receive up to eight hours of AMA Category 1 CME credit or ADA CE credits.
State medical and dental licensing authorities require physicians and dentists, respectively, to obtain a number of continuing education credits per year to maintain licensure. In Maryland, for example, physicians must obtain 50 AMA Category 1 credits™ each year while dentists and dental hygienists must complete 30 hours of approved continuing education credits. These CE credits can be obtained through various activities such as teaching, attending and participating in scientific and medical conferences, and completing online learning modules. State medical and dental boards also require practitioners to obtain and maintain life support certification as part of their licensure requirements.
Prior to this offering by ACLS Medical Training, providers needed to attend an in-person recertification class that could last up to eight hours to obtain CME credit. Now physicians and dentists are able to recertify online and receive 4 to 8 continuing education credits for their effort.
"CME has always been a barrier that online ACLS certification companies have faced," states Director of Customer Experience, Thomas James. "Traditionally the content on other sites has not been of the quality and rigor required of the AMA and ADA. We always knew the quality of our content was much higher because it was developed by our founder, Dr. Timothy Henry, a leading cardiologist. The fact that we can now offer our users AMA PRA Category 1 Continuing Medical Education Credits™ just proves it."
Physicians and dentists who are interested in certifying or recertifying in advanced cardiovascular life support, pediatric advanced life support, or basic life support and who wish to receive continuing education credits can visit ACLS Medical Training for more information.
About ACLS Medical Training:
ACLS Medical Training provides certification training in Advanced Cardiovascular Life Support, Pediatric Advanced Life Support, and Basic Life Support. It has rapidly become the premier provider of life support certification training because of the site's high quality educational content written by medical professionals. ACLS Medical Training is committed to the ideal that everyone should be trained in life support skills, from emergency department doctors to concerned citizens.