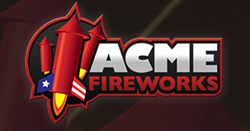 I am excited to expand the brand and to enhance the ACME experience.
Muscle Shoals, AL (PRWEB) July 02, 2014
ACME Fireworks, An exclusive provider of World-Class brand fireworks, announces the launch of a redesigned website. The new website offers quick and easy access to firework product catalogs, fundraising opportunities, videos, fireworks safety information, career openings and additional features that offer a more comprehensive understanding of ACME Fireworks dedication to providing high quality pyrotechnics to the public.
The new website features a new logo, user-friendly design, improved functionality, and enhanced content focused on the company's thirty-year expedience providing the public with the highest quality fireworks in the business such as the Excalibur artillery shell, the number one selling artillery shell firework of all time.
"I am excited to expand the brand and to enhance the ACME experience," says Michael Shook, ACME Fireworks. Resulting from increased demand, ACME Fireworks have secured additional locations that are open for operation. "Our mission is to provide the southern US with quality fireworks at a great price."
The new website went live on June 27, 2014, and can be found at the same web address: http://www.acmefireworks.net/ with specials and product information to be updated in coming days.
ACME Fireworks new website will be updated regularly with product news, events, fundraising, locations and more. Visitors are encouraged to explore the website and sign up for VIP club to receive direct emails from the company. "The VIP Club is completely free and carries no obligation," Michael Shook mentions. "All you have to do is sign up, and we will deliver the VIP Coupons and offers directly to your inbox."
About Acme Fireworks
ACME Fireworks has over thirty years experience in the fireworks business and is an exclusive provider of World-Class brand fireworks, an industry leader in performance and value. ACME Fireworks partners with local charities and non-profit groups by providing fundraising opportunities one week prior to the July Fourth holiday. ACME Fireworks takes pride in offering no-gimmicks, just the best fireworks at the best price.
Media Contact
Butler Burdine
(504) 710-4001