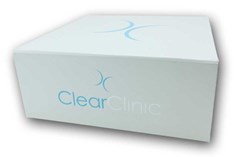 New York, NY (PRWEB) November 20, 2013
WHAT: Clear Clinic Acne Treatment Center in New York City is launching a line of customized acne products along with a unique program that will change the face of at-home acne care. With this new program, Clear Clinic founder, noted dermatologist Eric Schweiger, MD, is bringing New York level dermatological care to acne sufferers around the country!
As the first complete online professional acne treatment program, Clear Clinic Online combines customized regimens of sophisticated acne treatment products with guided care from a Personal Acne Coach™, a licensed skincare professional trained under Dr. Schweiger. Each Clear Clinic Online client is assigned their very own Personal Acne Coach™ to guide and support them during their journey to clear skin. Personal Acne Coaches will conduct consultations via cutting edge video technology, e-chat, or telephone.
Clear Clinic Online Services Feature:

Personalized regimens selected from a new line of 19 high-caliber acne products
Ongoing acne treatment care and guidance from a Personal Acne Coach™
New York level dermatological care
WHEN: Clear Clinic Online launches on December 3.
Don't wait – join the waiting list now at ClearClinic.com.
COST: $50 for a virtual consult
$175 for a Clear Clinic Kit – consisting of a two-month product supply and two virtual one-on-one consults
PRESS:
Melissa Kelz Communications
info(at)kelzpr(dot)com
646.450.5359
ABOUT CLEAR CLINIC
Dubbed "the blowout bar of acne care" by Style.com, Clear Clinic is the first skincare center to focus solely on the treatment of acne and acne scars. Under the supervision of Dr. Schweiger, Clear Clinic stores and its new division, Clear Clinic Online, were designed to make acne treatment more accessible to the over 50 million Americans who suffer from the condition. With three locations in Manhattan, Clear Clinic is equipped with state-of-the-art laser and light treatments as well as cutting-edge products, microdermabrasion, chemical peels and medical facials, Clear Clinic is a one-stop-shop for all things acne.
Clear Clinic locations:
21 West 19th Street, New York, NY 10011
65 Broadway, New York, NY 10006
110 East 55th Street, New York, NY 10022