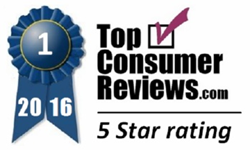 ClearPores is both effective and consumer friendly, we gladly give them our top ranking for Acne Products in 2016.
Overland Park, KS (PRWEB) May 12, 2016
TopConsumerReviews.com recently awarded their highest five-star rating to ClearPores, an industry leader in Acne Products.
Acne affects people of all ages, often leading to discomfort and embarrassment. It is believed that there are many causes of acne, which makes caring for the condition problematic. This is part of the reason why there are so many products on the market that target breakouts and other visible symptoms of acne.
"ClearPores is firmly committed to helping acne sufferers of all ages to have clear skin," explained Brian Dolezal, of TopConsumerReviews.com, LLC. "Their three-step Facial System uses a deep-cleansing wash to unclog pores and fight bacteria that produces acne, an herbal supplement that works to heal skin from the inside out, and a facial protection cream that helps keep skin free of blemishes. Across the board, ClearPores users report results, with many reporting being acne-free in a month or less. And, with the ClearPores 100% satisfaction guarantee, customers can get a full refund anytime in the first 90 days of using the solution. ClearPores is both effective and consumer friendly, we gladly give them our top ranking for Acne Products in 2016."
To find out more about ClearPores and other Acne Products, including reviews and comparison rankings, please visit the Acne Products category of TopConsumerReviews.com at http://www.topconsumerreviews.com/acne/.
About ClearPores
ClearPores is a top-rated acne product that prides itself on being a complete acne recovery system, fighting acne from the inside out. Its dietary supplement ingredients are all-natural and require no prescription, and the acne system has no known side effects. ClearPores guarantees results within 90 days of use. ClearPores is sold by Leading Edge Health, an industry leader in providing anti-aging, skin care, and health products, created by medical professionals in 1999 and sold by more than 50,000 affiliate partners worldwide.
About TopConsumerReviews.com
TopConsumerReviews.com, LLC is a leading provider of independent reviews and rankings of hundreds of consumer products and services. From Acne Products to Popular Diets and Elliptical Machines, TopConsumerReviews.com delivers in-depth product evaluations in order to make purchasing decisions easier.