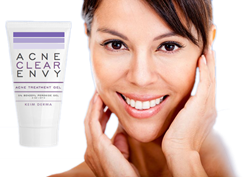 At Keim Derma, we're committed to bringing better and more effective products to the consumer.
Akron, Ohio (PRWEB) October 03, 2013
Keim Derma has released a revolutionary acne skin care product called Acne Clear Envy. It was developed by 3 area chemists, Mike Keim, William Keim, and L. Alan DeWitt by combining traditional acne medications with a homeopathic essential oil to produce faster healing.
Dermatologists' tests show that healing usually occurs within 48 hours. Some test respondents had an even faster response than that.
Acne Clear Envy is made of a high strength prescription grade benzoyl peroxide combined with homeopathic remedy lavender oil that heals the skin. Acne Clear Envy has a 5% concentration of benzoyl peroxide which is double that of many competitors. Being stronger medicinally means getting a beautiful, clear complexion easier and faster.
Adding homeopathic lavender oil to the benzoyl peroxide creates a new approach to healing. Once the benzoyl peroxide cleans out the pores, the lavender activates the skin to repair itself — reducing the redness and swelling.
Keim Derma, LLC is an Akron based skin care company committed to bringing better and more effective products to the consumer. Keim Derma continues to work on development of additional new products for the skin care market.
For more information check the website. For a limited time, the company is offering an introductory special on their website http://www.acneclearenvy.com. Buy one and get an additional tube of Keim Derma's Acne Clear Envy at no additional cost (Shipping charges still apply).
Contact info:
Mike Keim
Keim Derma
info(at)keimderma(dot)com
http://www.acneclearenvy.com