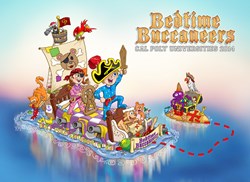 'The foam creates the mold and shape of our float. Without the foam, we would have nothing.' -Tiffany Geery, the 2013-2014 Rose Float Design Chair
South Gate, CA (PRWEB) December 31, 2013
ArncoPathway, one of the world's largest suppliers of polyurethane products, announces a unique application of monolithic spray foam, the signature offering of its' Arnco Construction Products (ACP) division.
Arnco Construction Products' (ACP) monolithic spray foam is known throughout the industry as the answer for numerous roofing and insulation applications. However, on January 1, 2014 it'll be the backbone of an entirely different construction project: Cal Poly Universities' award-winning Tournament of Roses Parade float (http://www.facebook.com/rosefloat and http://www.rosefloat.org).
The float, titled Bedtime Buccaneers, is a joint effort of the Cal Poly Pomona and Cal Poly San Luis Obispo float building teams. One of the vital components in turning Bedtime Bucaneers from concept to reality was ACP's monolithic spray foam. All Tournament of Roses Parade floats must be 100-percent covered in natural materials, and the days of Styrofoam for "flower beds" is old news. Today, the Cal Poly Universities' entry relies on a layer of ACP's monolithic spray foam applied to the float's external structure. It easily covers complex shapes and it's the perfect base for the application of flowers, seeds and other organic décor.
According to Tiffany Geery, the 2013-2014 Rose Float Design Chair, the foaming is very important to the float. "The foam creates the mold and shape of our float. Without the foam, we would have nothing to put our flowered 'vials' into...it also acts as support for us to walk on," she stated.
ACP couldn't pass up the opportunity to contribute to the success of such a true volunteer effort. "Cal Poly's Rose Parade team shows that innovation, teamwork and global awareness are keys to solving the future's challenges," said ACP General Manager Will Lorenz.
2014 marks the 66th consecutive year that The Cal Poly Universities have had a float in the parade, and its annual entries are a labor of love constructed by a team of faculty, students and community volunteers. This highly-polished grassroots effort's track record is impressive. Judged against the armada of professionally-built and corporate-financed floats that compose the majority of the parade, it has won more than 50 awards including the Fantasy Trophy, Founder Trophy, Viewer's Choice Award (three times) and last year's Bob Hope Humor Award.
ArncoPathway is the inventor of TyrFil®, the world's first polyurethane tire flatproofing material. Since 1971 ArncoPathway has provided more than two billion pounds of tire fill for use on off the road equipment to a worldwide network of partners in more than 60 countries. A division of Dash, ArncoPathway has production facilities in the United States, England and China. To learn more, visit http://www.flatproofing.com or contact Bill Hory at billh(at)arnconet(dot)com.