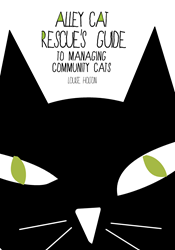 "Fantastic! I have rarely read anything so convincing. It was just a sheer treat to read and absorb." - Jeffrey Moussaieff Masson
Mt. Rainier, MD (PRWEB) December 02, 2015
Louise Holton has been at the forefront of humanely managing outdoor cat populations for more than 40 years. "TNR is a true life-saver for outdoor cats because it stops the breeding cycle and provides cats with vaccines and a support system that improves their health." says Holton. "TNR programs greatly reduce the strain on limited shelter resources and free up valuable space so that more animals can be saved."
Chief Executive of International Cat Care Claire Bessant says, "The benefits to cats and to the human community if cat populations are managed humanely, and stable colonies are formed rather than eradicated, are now well documented. In this new book, Louise reiterates this principle from her own experiences."
Holton believes the research and data presented in her book will shed new light on the hot button issues regarding TNR, as well as clear up the misconceptions that people have about community cats.
Holton began helping feral cats during the mid-1970s, when she worked with the Johannesburg SPCA to TNR feral cats at her work place. Upon moving to the U.S years later, Holton dedicated her life's work to advocating for TNR programs and humane management for community cats, after learning that catch-and-kill was the standard method for controlling outdoor cats.
New York Times bestselling author Elizabeth Marshall Thomas says, "[This is] the best and most informative book ever written on the subject and we badly need the information. The research is thorough, the science is flawless, the information is fascinating and the writing is beautiful."
Alley Cat Rescue's Guide to Managing Community Cats is now available on Amazon and directly through ACR's website.
About Louise Holton
Louise Holton has founded two international cat advocacy organizations and has helped pioneer Trap-Neuter-Return (TNR) in the U.S. Over the past four decades, she has assisted more than 40,000 cats, presented at numerous conferences and symposiums, and won several awards, including a Muse Medallion from the Cat Writers' Association for her informational booklet, "Feral Cat Colony Management and Control: Facts and Myths about Feral Cats." For a complete press kit please visit: http://www.saveacat.org/news.