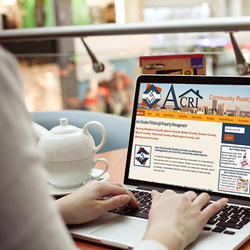 My favorite part of working with the Acri web design team is that the tasks at hand allow you to be creative, yet still learn what is most logical and useful to those who are using these websites on a daily basis
Pittsburgh, PA (PRWEB) July 31, 2014
As the proud property management company of many properties located in the Greater Pittsburgh Area, Acri Community Realty is a company that prides itself on its modern way of communicating. With websites being a necessary component of modern day communication, Acri's web design team has taken on the task of updating the properties' websites across the board.
Although creating a functioning and visually appealing website might be a grueling task, Acri Web Developer Michele Roper enjoys the hard work and the occasional sleepless night.
"Our goal is to provide attractive neighborhood websites that are designed to connect residential communities with information that promotes and connects your homes and community members. Our websites allow your homeowner association and the Acri Community Realty property managers to efficiently and affordably provide essential information to residents while promoting neighborhood pride and unity," Michele explains.
Michele has been creating websites for Acri Community Realty since 2008 and has taken on the job of updating all of the older sites to newer, more aesthetically appealing sites. This summer alone, the Acri web design team has pushed out 12 new sites already, and they are still working hard on more to come.
Sarah Ivin joined the Acri Web team in January 2014 to help Michele with all of the work that goes behind managing all of the community websites. This summer, Michele hired Nicole Zientek, a Duquesne University senior to hop on board.
Nicole will be going into her senior year at Duquesne, pursuing a double major in integrated marketing communications and journalism, along with minoring in web design. This is her first web design internship, but Nicole is enjoying the work she does for Acri Community Realty.
"My favorite part of working with the Acri web design team is that the tasks at hand allow you to be creative, yet still learn what is most logical and useful to those who are using these websites on a daily basis. The work behind managing all of the sites is tremendous, but we like the work because it keeps our minds spinning and working hard," Nicole comments.
Roper has switched over many of the sites already to the newer, more presentable format. In the past two months alone, the team has been able to create and re-vamp 12 more community websites. Although there are still more websites that need to be done, the team is happy with their successes so far.
Michele Roper explains the advantages of each community having its own website. "By creating these websites, the communities are allowed an opportunity to portray their community as a modern, pro-active, and vibrant place to live and play. The sites also allow homeowners to securely view useful documents, such as Board of Director minutes, community budgets, and more."
With only a few sites left to re-vamp, the Acri Community Realty Web Design team continues to experiment with different styles and images to make the sites more appealing and fun.
Nicole comments, "Change is definitely a huge part of our daily routine. New plugins are constantly coming out and we are always updating our slideshows, adding more pictures to the website, and re-doing our logos and icons. We like to make our sites fun, so that the residents of the respective communities enjoy looking at their website and can utilize it well."
The Acri Community Realty Web Design team will spend the rest of the summer collecting pictures of the various properties and continuing to update the many websites, so that homeowners can be proud of their community websites, just like the Acri Web Design team is.
About Acri Community Realty:
The Acri Management Group has been providing outstanding service to the Community Association Industry for over twenty years. Acri provides cost effective expertise in homeowner association management, accounting, dues collections, web services, information technology, and innovative problem solving.
Serving over 180 master-planned communities, subdivisions and condominiums, Acri knows what it takes to manage successful communities and create the ultimate place of home for family and loved ones.