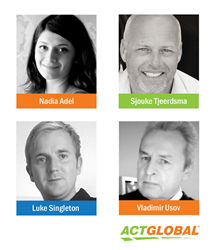 With the additional staff we can maintain the same high level of quality and customer service, while also expanding our global footprint.
Austin, Texas (PRWEB) April 09, 2015
Artificial turf manufacturer Act Global has announced the addition of four staff members to its international sales and marketing team, to strengthen key markets in Europe and Asia-Pacific.
Former Greenfields co-founder Sjouke Tjeerdsma has joined Act Global in Europe as a senior member of the management team. Based in Aalten, Netherlands, Tjeerdsma will be responsible for business development in specific European markets, as well as guiding in product development and marketing.
"Sjouke brings significant experience and expertise, and we are delighted to have him join our team," said Chris Clapham, co-owner of Act Global. "His knowledge, integrity, professionalism and character are a great fit for our company."
Vladimir Usov joins Act Global as a sales manager based in Prague to reinforce the company's Eastern European presence, primarily in the Russian market. Usov has considerable industry experience in this region, and has been successful in securing high profile projects over the past few years.
Based out of Bangkok, Thailand, Luke Singleton has joined Act Global's Asia-Pacific sales and marketing team. Singleton will be responsible for sales in the Far East, servicing the company's existing regional partners and managing FIFA Goal Projects in Asia. Previously, Singleton had contracted with Act Global on several large projects, including a 120,000 square meter artificial turf installation at Abu Dhabi airport.
Nadia Adel joins Act Global's Cyprus office to provide sales support and customer service for the Asia-Pacific market. Adel has a background in animation and illustration and will assist with corporate as well as regional marketing projects.
"All team members are valued additions to the Act Global family," said John Baize, co-owner of Act Global. "With the additional staff we can maintain the same high level of quality and customer service, while also expanding our global footprint."
ABOUT ACT GLOBAL
Act Global is a world leader in synthetic turf and artificial grass manufacturing. The company's Xtreme Turf and Xtreme Lawn products replicate natural grass for use in international stadiums, indoor sport centers, synthetic lawns and other synthetic grass uses. Its LiteEarth and AvTurf products add capabilities for landfills and airport applications. Act Global has manufacturing locations in USA, Europe and Asia and installations in over 70 countries. Act Global is notable for currently being the first company in the world that is a FIFA Preferred Producer for Football Turf, Synthetic Turf Council Certified Manufacturer, World Rugby Preferred Turf Producer, and holds an ISO 9001 certification. For more information visit http://www.ActGlobal.com.