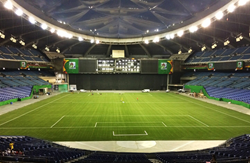 'We're honored to be a part in this momentous installation at the Montreal Olympic Stadium. Compliments to Carpell, the Canadian Soccer Association, consultant Bob Johnson, and all who have made this project a success.' - John Baize, Act Global
(PRWEB) August 04, 2014
Carpell Surfaces and Act Global have been selected to provide a high performance, synthetic turf pitch for Montreal's Olympic Stadium this July. The facility will serve for the FIFA U-20 Women's World Cup in August 2014.
The artificial turf is manufactured by FIFA Preferred Producer for Football Turf Act Global, and has been expertly installed by Carpell Surfaces. The field passed rigorous laboratory and field testing for qualities such as tuft bind, durability, UV stability, ball roll and rebound, traction, deformation and shock absorption to meet FIFA Two Star criteria. A FIFA Two Star Recommended pitch will offer the highest level of performance, tailored towards the specific needs of elite football and international sport.
The FIFA testing criteria are based on the benchmarks of natural grass fields in good condition. This ensures that artificial turf pitches built to these guidelines will mirror the playing characteristics of natural grass.
The playing surface features Act Global's Xtreme Turf DX60 artificial turf system, manufactured at their USA facility in Calhoun, Georgia. This latest technology in sports turf offers the most resilient grass-like fibers, proven by extensive wear testing. A green dual-fiber blend provides a natural grass appearance, while offering optimal performance, comfort and durability. Based on FIFA Laboratory Test results, Xtreme Turf DX60 achieves high marks on all measures.
"Carpell is extremely proud of installing the field at the Olympic Stadium for the FIFA U-20 Women's World Cup," said Paul Caron, president of Carpell Surfaces.
"We're honored to be a part in this momentous installation at the Montreal Olympic Stadium," said John Baize, managing director of Act Global. "Compliments to Carpell, the Canadian Soccer Association, consultant Bob Johnson, and all who have made this project a success."
France versus Costa Rica will kick off the opening match at the Montreal Olympic Stadium on August 5. The Stadium will host a total of ten tournament games, with the 3/4 Place and Final U-20 Women's World Cup matches concluding there on August 24.
ABOUT ACT GLOBAL
Act Global is a world leader in synthetic turf and artificial grass manufacturing, with installations in over 70 countries. The company's artificial Xtreme Turf and Xtreme Lawn products replicate natural grass for use in international stadiums, indoor sport centers, synthetic lawns and other synthetic grass uses. Its LiteEarth and AvTurf affiliations add capabilities for landfills and airport applications. Act Global is notable for currently being the first company in the world that is a FIFA Preferred Producer for Football Turf, IRB Preferred Turf Producer, Synthetic Turf Council Certified Manufacturer and holds an ISO 9001 certification. Its products have undergone hundreds of independent laboratory tests for quality, durability and performance.
ABOUT CARPELL SURFACES
Carpell Surfaces, based in Quebec, Canada, specializes in the installation of eco-friendly, high performance, artificial surfaces for football, soccer, athletics tracks, tennis courts and playgrounds in schools, parks and day-nurseries. The company has installed more than 1,200 turnkey projects.