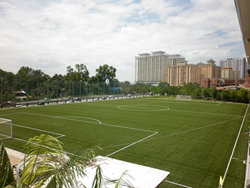 Through the dedication of our staff and installation partners, we have delivered world-class pitches to all types of environments, from top international stadiums to community clubs in developing countries.
(PRWEB) March 27, 2014
Over the last eight years, synthetic turf manufacturer Act Global has proliferated the demand for high-quality playing surfaces by bringing 100 FIFA Certified pitches to six continents. The company Certified its 100th pitch at Kuala Lumpur Football Association in Malaysia in early 2014, the same year the business celebrated its 10th anniversary.
Certified pitches are based on the FIFA Quality Concept for Football Turf, which provides the highest guidelines for artificial turf. These parameters were developed from significant testing and medical research to mimic the playability, safety and performance of a top natural grass pitch. An artificial turf system can earn a FIFA Recommended Certificate by proving through laboratory and field testing that it meets FIFA's natural grass benchmarks.
"We could not have reached this milestone without the dedication of our staff and installation partners around the world," said John Baize, co-owner and director of Act Global. "Through this network, we have delivered world-class pitches to all types of environments, from top international stadiums to community clubs in developing countries."
Chris Clapham, co-owner and director of Act Global, said the company has seen an increased market demand for FIFA quality installations. "It assures a buyer they are receiving a field benchmarked to top safety and performance guidelines. We will continue to promote the FIFA Quality Concept as an excellent global standard for selecting a synthetic turf system," said Clapham.
Act Global began its relationship with FIFA in 2006, when the company became a FIFA Licensee for Football Turf to obtain certification for installations following independent field testing. In the same year, Act Global achieved their first FIFA Recommended Two Star Certificate at Chung Jang Sport Park in South Korea. The following year, Act Global was the first company to provide a FIFA Certified field to the country of Brazil, at the Sport Club Corinthians Paulista of Sao Paulo. The club was a first division team in Brazil with multiple championships in its history including the FIFA World Club Championship.
In 2009, FIFA launched the FIFA Preferred Producer initiative, which aimed to deliver an even higher standard of quality and accountability to the game of football. Following a stringent review process, Act Global was selected to join as a FIFA Preferred Producer for Football Turf the same year. Seizing the new initiative, Act Global rapidly grew their FIFA presence, hosting several international FIFA seminars in Vietnam and Las Vegas and building their list of Certified installations on six continents.
Another FIFA initiative, the Goal Project Programme, empowers member associations to fulfill football development projects, aimed at those with the most pressing needs and the fewest resources at their disposal. Over the last eight years Act Global has been selected to deliver a total of 15 FIFA Goal installations in Asia, South America, Europe, Australia and Africa.
As part of Act Global's commitment to the Quality Concept, they have engaged in continual research and product development efforts to provide artificial turf that matches or exceeds FIFA's guidelines. The company has also pioneered research to prove that FIFA natural grass benchmarks and quality guidelines apply to American football and baseball surfaces.
About Act Global
Act Global is a world leader in synthetic turf and artificial grass manufacturing. The company's artificial Xtreme Turf and Xtreme Lawn products replicate natural grass for use in international stadiums, indoor sport centers, synthetic lawns and other synthetic grass uses. Its LiteEarth and AvTurf affiliations add capabilities for landfills and airport applications. Act Global has four manufacturing locations in USA, Europe and Asia and installations in over 70 countries. Act Global is notable for currently being the first company in the world that is a FIFA Preferred Producer for Football Turf, Synthetic Turf Council Certified Manufacturer and holds an ISO 9001 certification. Its products have undergone hundreds of independent laboratory tests for quality, durability and performance.