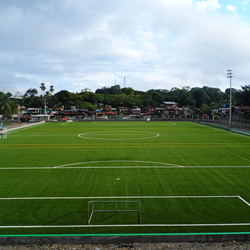 We are touched by the impact this field has brought to this community, and for the opportunity to give the best playing surface to an area that so greatly needs it.
(PRWEB) April 02, 2014
The remote town of Istmina, Chocó, Colombia now has access to a world-class synthetic turf football surface, due to high quality product and installation, as well as the support of professional football player Jhon Córdoba.
FIFA Preferred Producer for Football Turf Act Global earned a FIFA Two Star Certification for the new playing surface in Istmina, the mark of a top professional pitch. Pedro Sarmiento and his team at PSport Systems, in Medellin, Colombia, successfully installed 6,600 square meters of Act Global Xtreme Turf over a ProPlay shock pad, the first field of its kind in Colombia. The pitch achieved FIFA Certification following rigorous laboratory and field testing to prove the artificial turf performs like natural grass in good condition.
Sarmiento said the region has struggled with poverty and violence, and the new synthetic turf surface provides a positive and safe space for the community to play. The final customer, Dioceses of Istmina, called Sarmiento's team to personally commend the excellent product and installation. He said the local press and people from the municipality also visited the site to observe the field passing the FIFA tests.
"The Xtreme Turf product is amazing, and the community couldn't be happier," said Sarmiento. "We are encouraged by the hope the new field brings to this region and the possibility it provides the youth."
"We are touched by the impact that the field has brought to this community, and for the opportunity to give the best playing surface to an area that so greatly needs it," said John Baize, owner and director of Act Global.
In Istmina, football is a significant way of life, and very important players have been harvested from this region. Sarmiento's father coached Jhon Córdoba as a young player in Envigado FC, and helped support him from minor football divisions to the professional team. Recently Córdoba was sold to the Italian league, and at 20 years old, is one of the most promising strikers from Colombia. He has been selected for minor national team to compete internationally.
As a show of gratitude, Córdoba helped Sarmiento bring this artificial turf field to his home town.
Istmina is also one of the rainiest regions in the world, and the artificial turf provides a more durable all-weather playing surface than natural grass. Sarmiento said that the field has endured very heavy rain, but remains playable and in good condition. Sarmiento added that this installation is the beginning of a larger plan to continue growing and enhancing the sports scenery in the region.
ABOUT ACT GLOBAL
Act Global is a world leader in synthetic turf and artificial grass manufacturing. The company's artificial Xtreme Turf and Xtreme Lawn products replicate natural grass for use in international stadiums, indoor sport centers, synthetic lawns and other synthetic grass uses. Its LiteEarth and AvTurf affiliations add capabilities for landfills and airport applications. Act Global has four manufacturing locations in USA, Europe and Asia and installations in over 70 countries. Act Global is notable for currently being the first company in the world that is a FIFA Preferred Producer for Football Turf, Synthetic Turf Council Certified Manufacturer and holds an ISO 9001 certification. Its products have undergone hundreds of independent laboratory tests for quality, durability and performance.