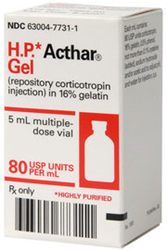 Toledo, Ohio (PRWEB) July 11, 2014
As reported by the New York Times (Morgenson 7/10/14) and FiercePharma (Weintraub 7/11/14), a significant number of severe adverse events such as renal failure, increases in blood sugar, abdominal issues and even death from the highly-promoted and costly immune-system drug, Acthar, have been exposed.
According to the Times report, a regulatory filing revealed that the total number of events in 2013 reported by patients was almost 14% of prescriptions, up from 9.1% in 2011. Specifically, from Jan. 1, 2011 to Dec. 31, 2013, 1,022 patients reported 3,100 adverse events while on Acthar. Additional data obtained by the Times under the Freedom of Information Act, showed 20 deaths and six disabilities since 2012. From January 2000 through 2011, by contrast, 13 deaths involving Acthar were submitted to the F.D.A.'s adverse events reporting system.
Acthar is manufactured by Questcor Pharmaceuticals and as reported in FiercePharma, generates approximately 95% of the company's revenues. The drug's potential benefits have been highlighted and heavily promoted by the drug company, helping boost sales 50% last year to $761 million. However, the drug company has now been forced to publicly acknowledge the potential adverse events with Acthar.
The Times also reported that when asked last month why the company had not disclosed these events, a spokeswoman claimed that the safety profile of Acthar was well known. Questcor did not respond to additional requests for comment about the company's decision to change course and disclose the adverse events.
Questcor has aggressively marketed Acthar to allegedly treat other serious illnesses, including lupus, nephrotic syndrome and multiple sclerosis. However, as explained in the Times report, "it has done so without conducting extensive clinical trials proving Acthar is more effective for those diseases than other, far cheaper drugs, such as steroids. That is because Acthar was approved for use in 1952, before such trials were required by the F.D.A. and is essentially grandfathered in."
The law firm of Zoll, Kranz & Borgess, LLC ("ZKB") devotes its practice to the field of pharmaceutical and medical device litigation. ZKB is dedicated to compelling companies to produce safer products. Injured clients and partnering attorneys from across the U.S. appreciate and rely upon over 70 years of combined experience in pharmaceutical mass torts and multidistrict litigation. ZKB's experienced team includes a practicing physician-attorney and all the technology, knowledge and experience necessary to succeed in this complex legal field. For additional information about Acthar, or if you believe you may have suffered injury as a result of Acthar, contact ZKB toll-free at (888) 841-9623 or visit the firm's website at http://www.zkblaw.com. Initial consultations are always free and confidential.