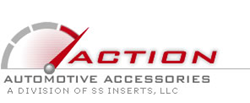 Action Automotive is now offering complimentary shipping on their entire stock of custom Mustang billet grilles and billet grille kits.
Arizona (PRWEB) July 10, 2014
It's summer time and that means it's time to hit the streets in a customized Mustang and cruise. However, nobody wants to be seen cruising in a boring stock car so there's never been a better time than now to customize. One of the easiest customizations is adding a Mustang billet grille and now thanks to Action Auto's free shipping offer, billet grille kits are more affordable than ever when ordered online at http://www.actionautoaccessories.com.
Action Auto Accessories has one of the largest selections of high quality Mustang billet grilles anywhere including many items that are available exclusively at Action Automotive. With prices starting at just $40, Action Auto is sure to have a grille to fit everybody's budget.
With so many online vendors out there now days it's important that consumers choose a well-established company that has a reputation for providing high quality parts – and with Action Auto that's exactly what they get. A reputable company that has been around for years with an impeccable track record of upstanding customer service.
Action Auto Accessories features a wide selection of products, including polished billet grilles, panel stripe kits, inner fender covers, headlight covers and stainless steel inserts just to name a few. The company specializes in Corvette accessories and Mustang accessories, but also provides products for Camero, GTO, Hummer, Celica, Challenger, Thunderbird and many, many others.
To place an order for a mustang billet grille with free shipping please visit Action Auto online at http://www.actionautoaccessories.com.