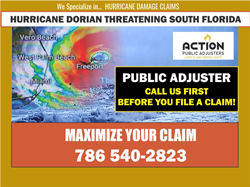 Action Public Adjusters Represent You The Policyholder, Not The Insurance Company.
HALLANDALE BEACH, Fla. (PRWEB) June 16, 2020
Action Public Adjusters announced today that in preparation for the 2020 hurricane season, they will expand their team of public adjusters. Action Public Adjusters will be ready to assist policyholders throughout the East and West Coast of South Florida.
Action Public Adjusters will negotiate the highest settlement possible for the policyholder due to any South Florida Hurricane Damage Claim. The team at Action Public Adjusters has a proven track record of high settlements. They can assist a policyholder with residential and commercial property damage due to a roof leak, water damage, fire damage or fallen tree caused by a hurricane.
According to NOAA's Climate Prediction Center, there are 13 to 19 named storms, and 6 to 10 could become hurricanes. On average a hurricane season results in 12 named storms, with 6 becoming hurricanes and 3 of the 6 storms becoming major storms.
It is imperative that the right public adjuster is hired to handle an insurance claim. Action Public Adjusters can handle the most sophisticated claims. To better accommodate clients from different backgrounds their staff at Action Public Adjusters can speak English, Spanish, and French. "Get a free property inspection, we represent the policyholder." - Joel Anidjar, owner of Action Public Adjusters.
According to NOAA's Climate Prediction Center, there is a 60% chance in 2020 that the hurricane season will be above-normal level. It is critical to hire a public adjuster to handle a claim in order to maximize a settlement.
Action Public Adjusters put clients' interests first. Every claim is handled with expertise.
For more information regarding this announcement contact Joel Anidjar at 786-540-2823 or visit https://www.actionpublicadjusters.com
About Action Public Adjusters:
Joel Anidjar is the owner of Action Public Adjusters, which is a boutique public adjuster firm that specializes in high-quality service for clients in South Florida.
Contact:
Joel Anidjar, owner
Action Public Adjusters
786-540-2823
https://www.actionpublicadjusters.com