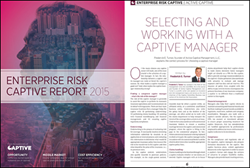 In fact, the relationship between a captive and its manager can make or break the captive's success.
Laguna Hills, California (PRWEB) January 30, 2015
Active Captive Management's founder and visionary, Frederick E. Turner, is featured in Captive Review's January 2015 "Enterprise Risk Captive Report" publication, which provides insight into the middle market captive solutions. The article is entitled "Selecting and Working with a Captive Manager." Calling on his over 25 years of experience in the formation of captives and in the alternative risk management industry, Mr. Fred Turner shares his insights and views on the process of choosing a captive manager.
Of the many choices any captive owner will make, one of the most crucial is the selection of a captive manager. In fact, the relationship between a captive and its manager can make or break the captive's success. In the article, Fred Turner addresses important questions such as what makes a captive manager a good one and what makes the captive/manager relationship strong?
The role of the captive manager is generally to assist the captive in performing its necessary insurance operations and to communicate on its behalf with regulators. Fred Turner also addresses the four main insurance functions of how a manager helps the captive.
The road to a captive starts with organizational risk management. In other words, captive managers should act in concert with the captive owner and/or the insured's risk management team and a well thought-out risk program includes both organizational risk management and risk management at the captive level, where one necessarily benefits from the other.
Captive insurance as an alternative risk management strategy is being used by more than half of the Fortune 1500 US and multinational corporations. Active Captive has in-house veteran insurance industry personnel, many of whom came to Active Captive with decades of experience working for or with commercial insurance companies.
Active Captive listens to clients, listens to the industry, and listens to regulators. As with any other relationship, communication is key. Active Captive's philosophy is one that marries the risk and captive management needs of the clients to the requirements of the governing domiciles to create and manage compliant captives that serve risk management purposes and meet the insurance needs of a diverse business base. Active Captive specializes in the formation and management of captive insurance companies for small and medium-size companies.
To read the full article, visit the following link: http://www.activecaptive.com/pr/CR-Enterprise-Risk.pdf
About Frederick E. Turner
Frederick E. Turner has worked in the field of risk management since the mid-1980s. He is the owner and founder of Active Captive Management, LLC. Mr. Turner is a recognized authority and speaker on insurance and risk management topics and serves as the vice chairman of the Captive Committee Business Law section of the American Bar Association.
About Active Captive Management
Active Captive Management (ACM) was established in 2005 and handles the needs of a wide range of companies in the design, development and implementation of alternative risk solutions. ACM offers comprehensive captive management services encompassing insurance policy underwriting and administration, claims adjusting, accounting support, and captive regulatory compliance management. ACM is an approved captive manager in 17 domestic and three offshore captive domiciles including Alabama, Delaware, District of Columbia, Florida, Hawaii, Kentucky, Missouri, Montana, Nevada, New Jersey, North Carolina, Oklahoma, Oregon, South Carolina, Tennessee, Utah, Nevis, Bermuda, Puerto Rico, and St. Christopher (St. Kitts). For more information, visit http://www.activecaptive.com.
View the Active Captive Management Profile on the Better Business Bureau®