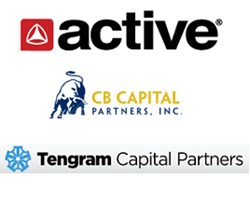 This is a great time to invest in specialty retail given the changing landscapes in the industry's branding, consumer messaging, and distribution channels since the financial crisis.
Newport Beach, CA (PRWEB) August 06, 2014
CB Capital Partners, Inc., a global financial advisory and investment firm, announced that it was the advisor to Active Ride Shop on a preferred capital infusion by Tengram Capital.
Active Ride Shop, a premier skate apparel retailer, received an undisclosed amount from Tengram Capital Partners, an established private equity firm that focuses on branded consumer products and retail space. The purpose of the investment is to accelerate the growth of the growing skate brand through new unit expansion.
Active Ride Shop is centrally located in Southern California with 21 retail locations and boasts a robust and growing ecommerce business. With Tengram Capital Partner's support, Active's management team plans to add more than 30 new stores in the coming years. This expansion will allow Active to develop more partnerships with iconic skate and snow brands.
CB Capital's Managing Partner, Christopher Baclawski, has many years of experience in advising specialty retail clients. Christopher Baclawski says this is the right time to invest in retail, as long as the brand value is strong. "This is a great time to invest in specialty retail given the changing landscapes in the industry's branding, consumer messaging, and distribution channels since the financial crisis. Active, with its strong focus in skate and genuine appeal to its core customer, is the right investment platform for the savvy specialty retail investor."
CB Capital Partners has worked with Active Ride Shop since October 2012, offering customized financial advisory solutions as their financial advisor. CB Capital Partners counseled Active Ride Shop since the beginning of the fund raising process which spanned over two years.
Active President Esmail Mawjee said, "The Active brand has a very loyal following of customers that return to our shops for the unique experience that's tied to our roots in skate and snow. Tengram recognized the strength of the Active brand and its unique culture and their investment will support the company in reaching its growth potential."
Former President and CEO of both Foot Locker (North America and Europe) and Champs Sports Rick Mina will join Active's board and advise the management team on its growth strategies. Mina's widespread experience in specialty retail will be invaluable for Active's growth strategies.
"I am very excited about the potential of this partnership between Active Ride Shop and Tengram Capital Partners," said Rick Mina. "The Active management team has a strong knowledge and understanding of the core consumer and the industry. Together, I believe this business can achieve significant growth in both its retail and e-commerce businesses."
Richard Gersten, Partner of Tengram, stated, "We have tremendous respect for what Esmail and the Active team have been able to accomplish with the Active brand given its limited resources. We intend to more rapidly grow this business consistent with the company's focus on its core action sports consumer. Active has always been an influencer in this community."
About CB Capital Partners Inc.
CB Capital Partners Inc. is a global financial advisory and investment firm headquartered in Newport Beach, California comprising of three practices: asset management, investment banking, and investment research. CB Capital's primary mission is to bring innovative and value-added solutions to our clientele through a conservative and disciplined application of our diverse professional institutional investment banking talents. Founded in 2001, CB Capital has grown through our business acumen and strong network which includes an office in Shanghai, China and an affiliate office in Mumbai, India. Visit http://www.cbcapital.com for more information.
About Active Ride Shop
Established in 1989, Active Ride Shop maintains its position among the top retailers and ecommerce businesses in the action sports industry. Active Ride Shop has 21 retail locations throughout Southern California and a growing ecommerce business. Active Ride Shop sponsors the most elite skateboarders and snowboarders in the world, and is proud of its offering of the new emerging brands and the latest trends in the industry. For more information about Active Ride Shop visit http://www.activerideshop.com.
About Tengram Capital Partners, LLC
Tengram Capital Partners, LLC is a private equity firm that focuses exclusively on leading middle-market consumer and retail companies that own strong recognizable brands. The team has a diverse background of consumer investing and operating expertise that assists and guides company management to unlock the true potential of their brand. Tengram invests in both traditional "growth" and "restructuring/turnaround" situations in either the public or private sectors. Previous and current investments for Tengram and its predecessor investment entity, Windsong Brands, LLC, include Tommie Copper, Deva Curl, Laura Geller Beauty, NEST Fragrances, Sequential Brands Group, Robert Graham, Joe Boxer, Joe's Jeans, Field & Stream, and Design Within Reach. Tengram's website is (http://www.tengramcapital.com)