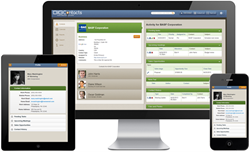 At BigContacts we're working tirelessly to develop cost-effective platforms and partnerships that will help the small business owner to work smarter and grow their business with the same financial and personnel resources they have today
Atlanta, GA (PRWEB) September 26, 2013
BigContacts, the leading provider of web based customer relationship management software for small businesses announces partnership with ActiveCampaign, an email marketing and marketing automation company, to integrate CRM and email marketing. The new partnership will help small businesses take marketing efforts to higher levels for extremely affordable prices.
With the new software, users will be able to view marketing results directly from a contact record, have one-click access to all marketing tools, design custom email templates, build custom web forms and landing pages, test emails display across all providers and devices, email auto responders, integrate all social media platforms and utilize detailed analytics for reporting.
"At BigContacts we're working tirelessly to develop cost-effective platforms and partnerships that will help the small business owner to work smarter and grow their business with the same financial and personnel resources they have today," says founder and CEO of BigContacts, Bob Walton.
With more than 20 years of business experience, Big Contacts helps businesses seamlessly manage the customer lifecycle by leveraging CRM technology to improve the entire customer experience. Through the successful implementation of BigContacts CRM software numerous businesses have been able to convert more prospective customers into buyers and maintain existing customer base. BigContacts is undeniably a service with a high ROI for companies across all industries.
The CRM/Email Marketing integration is optional and pricing plans vary depending on the number of contacts you actively market to or the total number of emails that you want to send each month. To learn more about the BigContacts and ActiveCampaign integration please visit the BigContacts website.
About BigContacts:
BigContacts is a software company that was founded in 2006 with a singular focus on delivering cost-effective and user-friendly CRM Software to help small businesses manage their prospect and customer relationships. BigContacts is now a leading web based CRM (Customer Relationship Management) software solution designed for small businesses that have outgrown basic solutions like Outlook, Excel or ACT but don't want the cost and complexity of CRM solutions like Salesforce.
About ActiveCampaign:
For more than ten years ActiveCampaign has been innovating and pushing the limits of email marketing. The ActiveCampaign platform provides access to email marketing resources, educational guides, and top of the line customer support. ActiveCampaign is trusted by over 100,000 small businesses to deliver email marketing results daily.