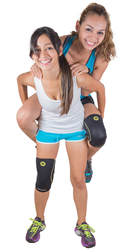 "The ActiveGear knee sleeve has kept me active after I thought an injury would take me off my feet for good"
(PRWEB) April 18, 2016
ActiveGear, a company dedicated to producing compression wear solutions and fitness accessories to improve the comfort of individuals with active lifestyles, has successfully introduced their knee support and calf compression sleeves for sale on Amazon.com. The company has opted for this platform as a way of selling their products after finding that their consumers feel more comfortable purchasing through the retail giant, and appreciate their ability to rely upon speedy delivery and service.
The ActiveGear knee support and calf sleeves come in a variety of different sizes, and the company has provided a sizing guide to help ensure that their customers choose the right selection for their needs. These sleeves are infused with moisture-wicking neoprene material to reduce the absorption of sweat during exercise and workout, and are designed to provide constant graduated compression throughout the leg to allow for better performance.
The compression wear provided by ActiveGear uses graduated compression to fight back against the impact of gravity, improving the flow of blood by enhancing the circulation of the body. At the same time, the durable design of the knee support and calf sleeve both help athletes and hobbyists to avoid injury by providing support for greater endurance during training.
According to the brand, the products were produced in response to the research that indicates most people will experience some joint or muscle pain during their lifetime. ActiveGear also produce regular blog posts and articles intended to assist people suffering with pain by offering solutions and support to their community. The knee and calf sleeve have been tested by men and women of various fitness levels and age groups, leading to an out pour of positive feedback.
Some of the reviewers have commented: "The ActiveGear knee sleeve has kept me active after I thought an injury would take me off my feet for good," and "The calf sleeve by Active Gear has super-powered my runs. Now I feel far more supported when I'm trying to beat my personal bests!"
According to Angela Hamilton the founder of ActiveGear, the sleeves are designed to provide support for people who want to avoid injury, as well as those who need help staying active after an injury or joint condition has begun to take an impact on their health. The compression technology works to reduce muscle stiffness and joint pain, accelerating the process of recovery and wicking away moisture to prevent rashes, chaffing, and the build-up of bacteria.
ActiveGear encourages sports enthusiasts to follow them on their social media profiles at LinkedIn, Twitter and Facebook for the latest information about upcoming products and fitness advice. Those hoping to purchase the knee support or ActiveGear calf compression sleeve from amazon can find the products on Amazon.com or on the ActiveGear website.