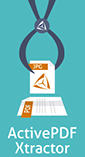 Xtractor tool delivers the functionality to easily automate within existing digital workflow environments.
Laguna Niguel, CA (PRWEB) August 20, 2015
ActivePDF today announced the release of a new PDF tool that provides the ability to extract text and images contained within high volumes of PDF documents. The new introduction of Xtractor is a complement of functionality to the existing ActivePDF product suite.
The Xtractor tool delivers the functionality to easily automate within existing workflow environments. This provides the ability to import hundreds or thousands of PDF documents to extract key information that can be used in categorizing or indexing documents for archiving, classification and more. The process categorizes information such as metadata, barcodes, or keywords that is then used to control printing, sorting, or packaging.
"The vision of our customers use cases and a clear understanding of their business needs drives ActivePDF to respond with a solid quality product such as Xtractor." said Jay Schlarb, Chief Operation Officer, ActivePDF. "The Xtractor functionality enhances business processes where our flagship product, ActivePDF Toolkit has been helping clients in driving the digital business for over 15+ years."
Xtractor is a versatile server-based tool for locating and extracting text and images from PDF files. A whole variety of PDF content suddenly becomes available through the library to automate document workflow environments and enhances usability. The straightforward .NET interfaces eliminates the complexities involved with coding.
About ActivePDF
Founded 2000 - ActivePDF is a global provider of PDF server-based tools for integration within business processes, including Enterprise Content Management (ECM), Document Management, and Workflow solutions. The ActivePDF suite is designed to streamline large volumes of rendering and assembly of content into secure PDFs. We serve numerous verticals including: Healthcare, Financial, Manufacturing, Utilities, Engineering, Legal and Government. With a substantial market presence of over 23,000 customers and distribution in more than 300,000 server licenses within 90 countries. More info at: http://www.activepdf.com