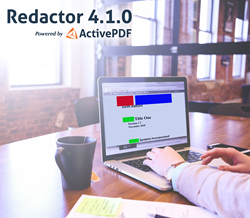 "Redactor 4.1.0 is perfect for IT managers and developers looking for a solution that removes sensitive information automatically and quickly, regardless of the complexity of the redacted information." ~ Tim Sullivan, ActivePDF Chief Architect and CEO
LAGUNA NIGUEL, Calif. (PRWEB) November 19, 2018
ActivePDF, the leading global provider of PDF automation solutions and digital transformation, is proud to announce the major release and availability of DocGenius™ Redactor 4.1.0. The updated version of Redactor offers an expanded and enhanced API redaction solution, as well as Royalty Free distribution.
Redactor is renowned for securely removing and obscuring information within PDF files, preventing viewers from seeing, searching, and/or editing sensitive information within PDF files. Redactor 4.1.0 also prevents viewers from highlighting or copying redacted text and images.
Redactor 4.1.0 enables users to redact within PDF files:
– Specific words
– Full text
– Full or partial images
– Entire pages
– Bookmarks
– Form fields
– Extensible Metadata Platform (XMP) and Metadata
– Search results
When these items are redacted within the PDF file, anyone viewing the file is prevented from seeing or editing the redacted information. The remaining, unredacted content remains visible and fully indexed.
The redaction process removes and replaces text and images with a filled box or customized label. Redactor enables users to censor everything from simple words and names to complex data, such as long-stringed numbers and specific parts of an image.
Redactor 4.1.0 introduces the following new features:

"Redactor 4.1.0 provides professionals in the legal, healthcare, finance, and government industries a sophisticated API that's easy to use and able to redact a multitude of content in record time," says Tim Sullivan, ActivePDF Chief Architect and CEO. "Redactor 4.1.0 is also perfect for IT managers and developers looking for a solution that removes sensitive information automatically and quickly, regardless of the complexity of the redacted information. The genius behind Redactor 4.1.0 is that it runs in an automated, multithreaded environment, enabling users to redact, enter search terms, and approve the found items without physically opening the PDF file. This adds another layer of security for clients and their end-users."
To learn about Redactor 4.1.0 installation requirements and other information, visit the Release Notes. Download the Redactor 4.1.0 free trial here.
For Royalty Free distribution and other licensing questions, speak with an ActivePDF Technology Advisor. For extensive information on all ActivePDF solutions and digital transformation tools, visit the ActivePDF Online Manuals page.
About ActivePDF
Developers, Product Managers, CIOs, and CTOs partner with ActivePDF to embed digital transformation and powerful PDF tools into their enterprise applications that reliably scale for millions of users. Originally known for providing low-code .NET PDF APIs that create, convert, modify, and view files, ActivePDF has naturally evolved over the years to further provide OCR data capture and intelligent workflow automation solutions within existing business processes. While represented amongst 40% of Fortune 500 companies, the full suite of ActivePDF technologies are currently deployed in industries such as Banking, Financial Services, Government, Healthcare, Legal, Manufacturing, Utilities, and more. Explore everything PDF, visit ActivePDF.com.
For additional information, please contact:
Derek Gerber, Global Marketing Director
derek.gerber@activepdf.com
ACTIVEPDF and the ActivePDF Logo are registered trademarks of ActivePDF, Inc. All other trademarks are property of their respective owners.