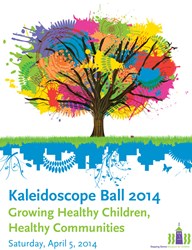 Help enrich the lives of children by supporting the museum's accessibility initiative, Open Arms.
Norwalk, CT (PRWEB) February 06, 2014
Stepping Stones Museum for Children's huge annual fundraising and social event, the Kaleidoscope Ball, is returning to Norwalk on Saturday, April 5. This black-tie optional, adult-only sophisticated affair will feature cocktails and hors d'oeuvres, dinner by Abigail Kirsch, a live auction, music, dancing and a special awards presentation to recognize leaders within the Norwalk community.
The 2014 Kaleidoscope Ball will celebrate the growth of Healthy Children, Healthy Communities as the hundreds in attendance will be wowed by the lively décor that resembles a kaleidoscope.
The main part of the evening will be the presentation of the 2014 Stepping Up for Children Awards. Since 2006, the museum has been awarding individuals and organizations that are committed to improving and enriching the lives of children and their families. The 2014 Stepping Up for Children honorees are the Connecticut Commission on Children, Elaine Zimmerman, executive director of the Connecticut Commission on Children, George A. Coleman, retired deputy commission of the Connecticut State Department of Education and current chair of the Connecticut Commission on Children and George and Carol Bauer, local philanthropists and longtime supporters of Stepping Stones Museum for Children.
Proceeds from the 2014 Kaleidoscope Ball will help support the museum's Open Arms initiative, which helps more than 60,000 underprivileged children and families enjoy the educational programs and award-winning exhibits at the museum. Open Arms offers Get Into It! free evenings on the first Thursday of every month, along with no-charge traveling exhibits. These educational and informative learning experiences are perfect for both parents and children.
Stepping Stones spends more than $1 million dollars annually to provide Open Arms experiences to visitors both onsite and offsite. The Kaleidoscope Ball raises money to help fund the cost for Open Arms.
The Kaleidoscope Ball is sponsored by the Foster Family Fund at the Visionary level, the BeFoundation, the Daphne Seybolt Culpepper Memorial Foundation, Inc., Anne and Herb Gullquist, Pepperidge Farm and Pitney Bowes at the Innovator level and First County Bank and Purdue Pharma at the Explorer level. Media support is provided by Moffly Media and WSHU Public Radio. Fountainhead Wines & Distillations and Keno Graphics are providing in-kind support. The event is co-chaired by Doon Foster and Marlene Battista.
For more information or to purchase tickets, visit http://www.steppingstonesmuseum.org/kb or call 203-899-0606, ext. 292.
About the Company:
Stepping Stones Museum for Children in Norwalk, CT, is an award-winning, private, non-profit 501(c)(3) children's museum committed to broadening and enriching the lives of children and families. Located on five acres in Mathews Park, the LEED Gold certified museum encompasses five hands-on galleries, state-of-the-art Multimedia Gallery, Family and Teacher Resource Center, cafe and retail store.
Stepping Stones is located at 303 West Ave., exit 14N or 15S off I-95 in Norwalk. Museum hours are from 10 a.m. – 5 p.m. Tuesday through Sunday from Labor Day through Memorial Day, and Monday through Sunday from Memorial Day through Labor Day. Admission is $15 for adults and children and $10 for seniors. Children under 1 are free. To learn more, call 203-899-0606 or visit http://www.steppingstonesmuseum.org