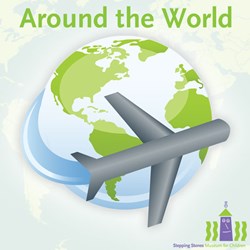 Through our Around the World program, we're looking to spark children's curiosity, imagination and interest in the world beyond Connecticut.
Norwalk, CT (PRWEB) October 04, 2013
Exposure to the world's diverse cultures and customs provides priceless educational opportunities for children. Through Stepping Stone Museum for Children's highly-popular and award-winning Around the World programming, families can explore the world without leaving Norwalk through cultural programs brought to life.
Recently, the museum announced the 12 Around the World "destinations" selected for each month of 2014. The destinations are Ballet Los Pampas in Argentina, Soro Bindi in Ghana, Inca Son in Peru, Kahana Hula in Samoa, Rossijanochka Folk Dance Troupe in Russia, Didgequest in Australia, Music and Dance of the Scottish Highlands in Scotland, Surcari in Chile, Greek Mythology in Greece, the Catskill Puppet Theater presents The Lion's Whiskers in Ethiopia, Shane Long for United States Native Americans, and ABBA Girlz in Sweden. The 2014 Creative Kids programs will take place on the first Saturday of each month, unless otherwise noted. The Around the World programming schedule is subject to change.
Since 2009, Stepping Stones has been transporting children and parents to 12 different parts of the world each year. Each month, museum guests get an extensive look at a different country's customs through engaging, interactive Around the World Performance Series events featuring youth performers, professional artists, musicians and the Around the World Creative Kids offering hands-on cultural craft activities. Throughout each month, the designated country is also represented on the museum's walls with a map display and travel guide, in the Multimedia Gallery with a short film and interactive digital media floor games broadcast at various times each day, and in the Family and Teacher Resource Center with the Around the World Bookshelf offering children's books about the featured country. School vacation weeks are dedicated to Around the World programs and include special crafts, story times and activities.
From the program's inception, participants have been receiving a keepsake Around the World "passport" stamped to keep track of each destination they have "visited." Stepping Stones registers each child's passport to keep track of his or her participation. If a child "visits" at least six countries during the year, he or she will receive "World Traveler" status, and be invited to a special World Travelers' event in Dec. 2014.
"Through our Around the World program, we're looking to spark children's curiosity, imagination and interest in the world beyond Connecticut," said Hyla Crane, director of education at Stepping Stones Museum for Children. "Our local area is vibrant, historic and culturally rich and we want to provide children and families living here with the opportunity to experience the richness of the world beyond our region. As technology and an interconnected economy shrink the globe, it is so important for children to have the opportunity to build the life skills required to be literate and responsible global citizens. The ability to respect and embrace diversity, appreciate different cultures and be knowledgeable about the history of different parts of the world will cultivate children's global competency and help shape their future success."
In 2011, Stepping Stones was rewarded for its passionate commitment to global awareness, media literacy, and the latest technological advances when its Multimedia Global Connection Initiative earned the museum a prestigious Promising Practice Award from MetLife Foundation and the Association of Children's Museums. This year, Stepping Stones was selected as the winner of the 2013 MetLife Foundation and ACM Promising Practice Replication Award. The award and its accompanying grant, given out annually to former Promising Practice Award recipients, will allow Stepping Stones to develop an online toolkit to encourage children's museums to replicate this Multimedia Global Connections Initiative. Through its hands-on activities, live performances and interactive multimedia components, the Around the World series provides the museum's context for its diverse, multicultural programming.
Experiencing the world's diverse cultures can be enriching and rewarding. Come on down to Stepping Stones Museum for Children, immerse yourself in a different way of life, get your passport stamped and become a world traveler. Around the World programming is free with museum admission. Visit http://www.steppingstonesmuseum.org/ATW for more information. The Around the World program is sponsored in part by Gen Re.
About the company:
Stepping Stones Museum for Children in Norwalk, Conn., is an award-winning, private, non-profit 501(c)(3) children's museum committed to broadening and enriching the lives of children and families. Located on five acres in Mathews Park, the LEED Gold certified museum encompasses five hands-on galleries, state-of-the-art Multimedia Gallery, Family and Teacher Resource Center, cafe and retail store.
Stepping Stones is located at 303 West Ave., exit 14N or 15S off I-95 in Norwalk. Museum hours are from 10 a.m. to 5 p.m. Tuesday through Sunday from Labor Day through Memorial Day, and 10 a.m. to 5 p.m. Monday through Sunday from Memorial Day through Labor Day. Admission is $15 for adults and children and $10 for seniors. Children under 1 are free. To learn more, call 203-899-0606 or visit http://www.steppingstonesmuseum.org.