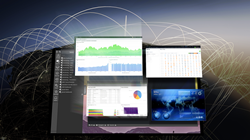 These latest enhancements bring the 24/7 observability and reliability of a world-class monitoring and collaboration command center to the laptops and mobile devices of ambitious businesses and organizations, wherever their teams are in the evolving remote-work landscape
ROCKAWAY, N.J. (PRWEB) February 07, 2022
Activu has launched the newest evolution of vis/ability, the observability platform for Event Driven Visual Intelligence.
With vis/ability, teams efficiently and securely manage enterprise monitoring information anywhere in the world, identify incidents faster, and resolve them with less disruption to operations. The latest enhancements to vis/ability make real-time situational awareness information more accessible, more quickly, and in more ways.
Deploy a virtual command center, securely in the cloud
Critical operations gain incredible flexibility with the arrival of vis/ability Cloud. Without the requirement of a physical command center, vis/ability Cloud empowers teams with entirely virtual Spaces to share and collaborate around critical information, in real-time, from anywhere.
Share secure, live, virtual Spaces, through a web browser
Vis/ability removes information barriers from even the most disparate sources of an organization's critical intelligence. Users securely invite one or many collaborators to view curated, virtual control room content through their web browser, and can revoke access instantly and effortlessly. With no special software, a simple web link brings outside collaborators, executive stakeholders, breakout rooms, and more into real-time situational awareness from anywhere.
Automate awareness with integrations to key platforms
Vis/ability connects to apps you monitor, to automate your common operating picture. ServiceNow, Splunk, QRadar, Waze, and more are part of growing roster of IT, Cyber Security, and other platform integrations that drive automatic alerts and content curation for teams in vis/ability. As organizations become inundated with streams of real-time information, vis/ability's Event-Driven Visual Intelligence helps surface an interactive canvas of the most relevant and timely content, when it's most critical, via actionable, real-time alerts, wherever vis/ability users are. Whether in the vis/ability Desktop application, through the Windows notification service, via text message, or email—vis/ability ensures no critical moment passes without the appropriate teams being notified, when every moment matters.
"This is our most consequential platform update since the launch of vis/ability," said John Alfieri, COO at Activu. "While Activu have implemented more than a thousand control rooms over the years—in Fortune 500 companies, utilities, transportation, federal, and public safety agencies—these latest enhancements bring the 24/7 observability and reliability of a world-class monitoring and collaboration command center to the laptops and mobile devices of ambitious businesses and organizations, wherever their teams are in the evolving remote-work landscape."
Vis/ability 6.1 is available now from Activu. Learn more at https://activu.com/visability