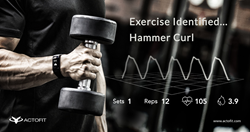 Actofit fitness tracker hits 100% goal on Indiegogo !
Mumbai, India (PRWEB) November 08, 2016
Actofit is an Indian wearable tech startup with a developed wearable wrist-wear and a complete software algorithm platform that tracks not only your steps & heart rate but goes deeper into advanced motion tracking to track comprehensive & granular workout statistics; creating seamless logs, allowing you to evaluate data to make informed decisions.
Through its versatility and innovation, Actofit is able to auto identify 75+ gym exercises, count sets & reps, measure continuous heart rate, estimate velocity, force and power for every exercise and can also be used for the rest of the day as a regular fitness tracker. It aims to help fitness enthusiasts track their complete workouts, evaluate forms and sessions, maintain optimum heart rate, and use the data to make informed decisions.
Actofit uses 9 axis motion sensors to track movement in the 3D space. Using machine-learning algorithms, Actofit has built an activity identification platform and has multiple pending patents. Although the product is launched in the fitness space, the software platform is capable and allows users to add or customize any kind of motion & track it, which has applications across different sports, yoga, physiotherapy and more.
The basic idea here is to eliminate the need for manual entry of workout logs in your apps as well as to provide more relevant information which was previously not available to the individual. Logging that happened manually, is now automated with data science. Where ordinary Fitness trackers with just step counters motivate users to take more steps and live healthier lives, will Actofit increase motivational levels amongst gym goers, where about 2/3rd of gym members are not regular gym goers.
To be shipped to the backers by the end of 2016, Actofit is more versatile and unique than anything that is available in the markets today. The wearable still tracks sleep, steps, running, continuous heart rate and provides for call/text alerts, notifications, calendar reminders, idle alerts and is designed to be water-resistant (IP67). It is designed to the perfect embodiment for an active lifestyle user. You can see the Indiegogo campaign at http://IGG.me/at/actofit.