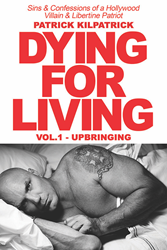 You won't put it down!
NEW YORK (PRWEB) May 17, 2019
Boulevard Books author Patrick Kilpatrick, a veteran of 170 films and hit TV show – from Spielberg's MINORITY REPORT to 24 to PBS is delighting audiences at the Moscow International Film Festival with his improvised performance in NIGHT WALK.
While the film received mixed reviews, Kilpatrick's performance as a 'towering vessel of hate' has catapulted him to media darling status in Russia. This on the heels of Kilpatrick's highly inflammatory best-selling memoir DYING FOR LIVING: SINS & CONFESSIONS of a HOLLYWOOD VILLAIN & LIBERTINE PATRIOT - Vol. 1 Upbringing.
Kilpatrick is very busy indeed … rumbling about LA's Larchmont Boulevard on a ridiculously pretty and dangerously powerful custom Harley Road King – his pay for an MC job in Nevada – meeting with American based Russian producers, national book signings and overseeing scandalous excerpt ads for the memoir that detail consensually ejaculating over the augmented breasts of the beauty of color wife of CNN's Head Entertainment Reporter – a statuesque lady spirally in a violent divorce – carnal conga lines with a drunken Oliver Stone, 'cinema raping' Naomi Watts, a feverish affair with Pam Prier, nude luncheons with Bai Ling, awash in Michael Madsen's jealous rage at the Egyptian Theater - recovering from Christmas pneumonia, making romantic prep for his wedding to celebrity realtor and onetime Vegas/Paris/New York dancer Heidi Bright on an upcoming road trip to Cartagena and Dutch island Bonaire off Venezuela's coast on May 14th. – while simultaneously on self-imposed deadline for the incendiary follow-up DYING FOR LIVING: Wasted Talent in the Valley of Debacle – Vol. 2 Showbiz.
It's simple rhythm and sway in the tumultuous craft life of global Hollywood's versatile premier bad guy and engaging embedded 'journalist' - nothing new for a man who in the seventies wrote for every magazine in New York (and most of the ad agencies – TIME, LIFE,INTERVIEW, SPORTS ILLUSTRATED among them), directed and assistant directed Off Broadway and on Broadway, then spun into going head to head against the likes of Sean Connery, Chow Yun-Fat, Bruce Willis, Arnold, Steven Seagal, Jessica Alba, Mickey Rourke, Dennis Hopper, Jean Claude Van Damme and many more … in films with directors James Cameron, Antoine Fuqua, Chuck Russell, Nick Roeg, Guy Hamilton et al … in front and behind the camera with every heavyweight of the past generation.
Kilpatrick became engaged in Casablanca last May 14th on the set of NIGHT WALK, starring opposite Oliver Stone's son Sean and as he describes 'the Darwinian hybrid Rourke', the very night he was covered in flame retardant jell with gasoline and set afire twice while insulting every worldwide cultural and racial group in character.
"The only time the Muslim crew became upset and erupted in riot was when I tossed the Koran onto a prison bed," quips Kilpatrick. "So, I praised the book off the cuff with dripping paradox gentility. There's always a way."
Kilpatrick is irrepressible. "The movie was a kick, I got to anally strip search Sean for one scene. He seemed to enjoy it which is the secret to great acting. I am as ruthless and lovingly candid about each and every brain damaged A-lister as I am with myself."
Patrick will be seen soon in the upcoming CATALYST, directed by Chris Folkens, as a pedophile priest.
"The origins of that reviled pathology are uncomfortably close to the origins of many aberrant behavior patterns – over eating, smoking, drug abuse, promiscuity," observes Kilpatrick
DYING FOR LIVING is available on Amazon.com in all forms, BarnesandNoble.com and personalized autographed copies are available on PatrickKilpatrick.com. Kilpatrick can be reached Facebook at Patrick Kilpatrick, Twitter @ImPatKilpatrick