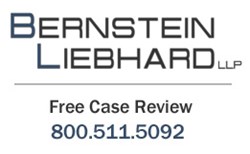 More than than two years after U.S. regulators warned of the potential for Actos bladder cancer, our Firm continues to hear from long-term users of this drug who developed the disease.
New York, New York (PRWEB) September 08, 2013
Actos lawsuits(http://www.consumerinjurylawyers.com/actos/Actos-Lawsuit.html) filed on behalf of people who allegedly developed bladder cancer due to prolonged use of the Type 2 diabetes drug continue to move forward in a multidistrict litigation underway in U.S. District Court, Western District of Louisiana, Bernstein Liebhard LLP reports. According to an Order issued by the Court on August 26th, the parties have been directed to meet and confer, in person, prior to the filing of certain motions, in order to attempt to resolve issues before they are brought to the attention of the Court. (In re: Actos Product Liability Litigation, MDL No. 2299)
"More than than two years after U.S. regulators warned of the potential for Actos bladder cancer, our Firm continues to hear from long-term users of this drug who developed the disease. We are pleased to see federal Actos lawsuits moving forward," says Bernstein Liebhard LLP, a nationwide law firm representing the victims of defective drugs and medical devices. The Firm is currently offering free lawsuit evaluations to long-term Actos users who were diagnosed with bladder cancer, allegedly due to their use of the Type 2 diabetes drug.
Actos Bladder Cancer
The litigation surrounding Actos has been growing since June 2011, when the U.S. Food & Drug Administration (FDA) warned that use of Actos for one year or more had been linked to the development of bladder cancer. Court documents indicate that more than 2,500 Actos lawsuits have been filed in the federal multidistrict litigation underway in Louisiana. All of the claims pending in the proceeding allege that long-term users of Actos are at a higher risk for bladder cancer, and accuse Takeda Pharmaceuticals and other defendants of concealing their knowledge of that risk and failing to provide adequate warnings to the public and medical community. The federal litigation's first bellwether trial will begin on January 27, 2014, while its second Actos bladder cancer trial will commence on April 14, 2014.
While Actos lawsuits have yet to go trial in the federal litigation, some cases have gone before a jury in state proceedings. According to court documents, the nation's second Actos bladder cancer trial is now underway in Maryland state court. During opening arguments earlier this week, an attorney for the Plaintiff claimed that Takeda knew as early as 2005 that research had linked prolonged Actos use to bladder cancer, but waited six years to issue a public warning. The attorney further asserted that this delay allowed Takeda to increase sales of Actos. (An v. Nieberlein, 24-C12003565, Circuit Court for the City of Baltimore, State of Maryland.)
The nation's first state trial involving Actos bladder cancer allegations ended in April, with a California Superior court jury awarding more than $6 million to the Plaintiff. However, the judge overseeing the case granted Takeda Pharmaceuticals' request to set aside the verdict. (Cooper v. Takeda Pharmaceuticals America Inc., CGC-12-518535, California Superior Court)
Patients who took Actos for more than a year and were diagnosed with bladder cancer may be entitled to compensation for medical expenses, lost wages, pain and suffering, and more. Learn More about filing an Actos bladder cancer lawsuit by visiting Bernstein Liebhard LLP's website. For additional information, please contact Bernstein Liebhard LLP today by calling 800-511-5092.
About Bernstein Liebhard LLP
Bernstein Liebhard LLP is a New York-based law firm exclusively representing injured persons in complex individual and class action lawsuits nationwide since 1993, including those who have been harmed by dangerous drugs, defective medical devices and consumer products. The firm has been named by The National Law Journal to the "Plaintiffs' Hot List," recognizing the top plaintiffs' firms in the country, for the past 10 consecutive years.
Bernstein Liebhard LLP
10 East 40th Street
New York, New York 10016
800-511-5092
ATTORNEY ADVERTISING. © 2013 Bernstein Liebhard LLP. The law firm responsible for this advertisement is Bernstein Liebhard LLP, 10 East 40th Street, New York, New York 10016, 800-511-5092. Prior results do not guarantee or predict a similar outcome with respect to any future matter.
###
Contact Information:
Felecia L. Stern, Esq.
Bernstein Liebhard LLP
info(at)consumerinjurylawyers(dot)com
http://www.consumerinjurylawyers.com