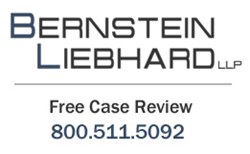 We are continuing to evaluate Actos lawsuits on behalf of individuals who developed bladder cancer, allegedly due to using the drug for one year more.
New York, New York (PRWEB) December 14, 2013
More than 2,600 Actos lawsuits (http://www.consumerinjurylawyers.com/actos/Actos-Lawsuit.html) continue to move forward in a multidistrict litigation underway in U.S. District Court, Western District of Louisiana, Bernstein Liebhard LLP reports. According to court documents, a Status Conference was held in the proceeding on December 11, 2013. Among other things, the Court received a bellwether trial update, and a report on the status of federal and state Actos bladder cancer claims. (In re: Actos Product Liability Litigation, MDL No. 2299)
"We are continuing to evaluate Actos lawsuits on behalf of individuals who developed bladder cancer, allegedly due to using the drug for one year more. Our Firm is monitoring this proceeding very closely, and looks forward to additional progress in the year to come," says Bernstein Liebhard LLP, a nationwide law firm representing the victims of defective drugs and medical devices. The Firm is currently offering free Actos lawsuit evaluations to long-term users of the medication who have been diagnosed with bladder cancer.
Actos Bladder Cancer Litigation
Court documents indicate that more than 3,000 Actos lawsuits involving bladder cancer allegations are pending in courts around the U.S. This includes more than 2,641 claims that have been filed in the federal litigation underway in the Western District of Louisiana. All of the complaints allege that longterm use of the Type 2 diabetes drug increases the risk that patient will develop bladder cancer.
According to court records, the nation's third trial of an Actos lawsuit is now underway in the Eighth Judicial District Court of Nevada for Clarks County. The case, which according to the complaint was filed on behalf of a Plaintiff who began taking Actos before bladder cancer warnings were added to the drug's label in 2011, is expected to go to the jury by mid-month. (Case No. A-12-665708-C)
Court records indicate that two other Actos trials involving bladder cancer claims concluded earlier this year. In September, a Maryland State Court jury awarded $1.7 million to the family of a man who died of bladder cancer following longterm use of Actos. However, according to court records, the judge presiding over the trial tossed out the verdict because the jury also found that the decedent's decades-long smoking habit contributed to the development of the disease. (An v. Nieberlein, 24-C12003565, Circuit Court for the City of Baltimore, State of Maryland.)
In April a Los Angeles Superior Court jury awarded $6.5 million to a plaintiff who was diagnosed with bladder cancer after taking Actos for four years. However, the plaintiff has appealed a decision by the judge overseeing the case to grant Takeda Pharmaceuticals' request to set aside the verdict. (Cooper v. Takeda Pharmaceuticals America Inc., CGC-12-518535, California Superior Court)
Bladder cancer patients whose diagnosis may be related to their use of Actos could be entitled to compensation for medical bills, lost wages, and other damages. Find out more about the potential for Actos to cause bladder cancer at Bernstein Liebhard LLP's website. For additional information, please call 800-511-5092 today.
About Bernstein Liebhard LLP
Bernstein Liebhard LLP is a New York-based law firm exclusively representing injured persons in complex individual and class action lawsuits nationwide since 1993, including those who have been harmed by dangerous drugs, defective medical devices and consumer products. The firm has been named by The National Law Journal to the "Plaintiffs' Hot List," recognizing the top plaintiffs' firms in the country, for the past 10 consecutive years.
Bernstein Liebhard LLP
10 East 40th Street
New York, New York 10016
800-511-5092
ATTORNEY ADVERTISING. © 2013 Bernstein Liebhard LLP. The law firm responsible for this advertisement is Bernstein Liebhard LLP, 10 East 40th Street, New York, New York 10016, 800-511-5092. Prior results do not guarantee or predict a similar outcome with respect to any future matter.
###
Contact Information:
Felecia L. Stern, Esq.
Bernstein Liebhard LLP
info(at)consumerinjurylawyers(dot)com
http://www.consumerinjurylawyers.com
https://plus.google.com/115936073311125306742?rel=author