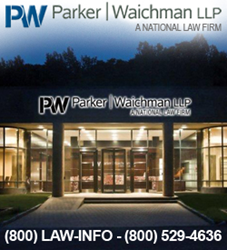 New York, New York (PRWEB) April 08, 2014
Parker Waichman LLP, a national law firm dedicated to protecting the rights of victims injured by defective drugs and medical devices, reports that Takeda Pharmaceutical Co. was ordered to pay $6 billion, and Eli Lilly & Co. was ordered to pay $3 billion, respectively, in consolidated Actos cases in Louisiana. (In Re Actos [Pioglitazone] Products Liability Litigation, 11-md-02299) According to an April 8, 2014 article in Bloomberg News, this $9 billion jury award is the seventh-largest in U.S. history based on data compiled by Bloomberg.
Parker Waichman LLP has maintained a leadership role throughout the Actos litigation. In fact, Jerrold S. Parker, founding partner of the law firm, serves on the Plaintiffs' Steering Committee.
According to court documents, the plaintiffs in this first Actos bellwether trial, Terrence and Susan Allen, allege that Mr. Allen was treated with Actos for his Type 2 diabetes from 2004 until 2011; he developed bladder cancer in 2011. According to the lawsuit, Mr. Allen also alleges that Actos caused the cancer and that Takeda concealed risks tied to Actos from the public. Mr. Allen also alleges that he would not have taken Actos had he been informed of these risks. Some 2,700 lawsuits have been filed into this Actos multidistrict litigation (MDL) (In Re: Actos (Pioglitazone) Products Liability Litigation (MDL No. 2299), which is taking place in the U.S. District Court for the Western District of Louisiana, with the Honorable Rebecca F. Doherty, presiding. Allen's individual case is Allen v. Takeda Pharmaceuticals North America Inc., 12-cv-00064, in U.S. District Court, Western District of Louisiana (Lafayette).
Parker Waichman is actively involved in the Actos litigation and has filed lawsuits on behalf of numerous individuals who developed bladder cancer, allegedly due to taking Actos. These mounting complaints highlight an increasing level of evidence that reveals that use of Actos is related to a significantly higher risk of developing bladder cancer. For example, the U.S. Food and Drug Administration (FDA) warned in 2011 that using Actos for more than one year could substantially raise this cancer risk; patients with bladder cancer were advised to not use the drug.
Parker Waichman LLP continues to offer free legal consultations to victims who suffered bladder cancer after using Actos. If you or a loved one were diagnosed with bladder cancer after taking Actos, please contact the Firm by visiting yourlawyer.com. Free case evaluations are also available by calling 1-800-LAW-INFO (1-800-529-4636).
Contact:
Parker Waichman LLP
Gary Falkowitz, Managing Attorney
1+ (800) LAW-INFO
1+ (800) 529-4636
http://www.yourlawyer.com