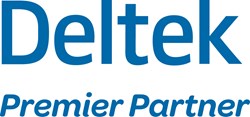 'Acuity continues to provide outstanding quality and value to their clients, and consistently adheres to the high standards that Deltek sets for its partners.' - Claus Thorsgaard, Executive VP & GM - PS, Deltek
Reston, VA (PRWEB) February 13, 2014
Acuity Business Solutions was recently honored as a Deltek Vision Premier Partner for 2014, the top classification for a Deltek partner. Deltek's Premier Partner status is awarded to partners who demonstrate continued excellence in marketing, selling, implementing, and supporting Deltek solutions.
Deltek Vision is a leading enterprise software solution designed for professional services firms to improve business performance, streamline operations, and win new business. Deltek Vision integrates end-to-end business processes by automating the marketing, financial management, planning, tracking, and administration of resources and projects.
"Acuity continues to provide outstanding quality and value to their clients, and consistently adheres to the high standards that Deltek sets for its partners," said Claus Thorsgaard, Deltek's Executive VP and General Manager – Professional Services. "We are pleased to have Acuity Business Solutions in our Deltek Vision Premier Partner program for 2014."
Headquartered in the Washington, D.C. metro area, Acuity Business Solutions is a Deltek reseller, implementer and consulting partner. The Acuity team has over 28 years of industry knowledge, best practices and hands on experience with Deltek products. Acuity provides sales consulting, support, training, and customization services for Deltek products. Acuity also offers value added services such as users group meetings, free product and business management webinars, special events, and lunch and learns to ensure its clients have access to the information they need to be successful and get the most out of their Deltek technology investment.
"We are very excited to be recognized by Deltek as one of their most successful and committed partners. We are focused on helping our clients achieve their goals by optimizing their Deltek software and improving their business management processes," said June R. Jewell, CPA, President & CEO, Acuity Business Solutions.
About Acuity Business Solutions
Acuity Business Solutions helps project-based businesses such as Architecture, Engineering and Environmental firms, Government Contractors and Professional Services firms find opportunities, win business, deliver projects, and manage their organization. Our clients benefit from over twenty four years of industry knowledge and best practices. Acuity Business Solutions has built a tremendous track record, helping hundreds of firms reduce costs and increase their profitability.
About Deltek
Deltek is the leading global provider of enterprise software and information solutions for professional services firms and government contractors. For decades, we have delivered actionable insight that empowers our customers to unlock their business potential. 16,000 organizations and 2 million users in over 80 countries around the world rely on Deltek to research and identify opportunities, win new business, optimize resources, streamline operations, and deliver more profitable projects. Deltek – Know more. Do more.® http://www.deltek.com