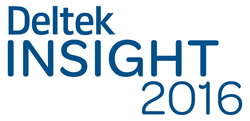 York, PA (PRWEB) September 20, 2016
Acuity Business Solutions (a division of Stambaugh Ness Business Solutions) announces their Gold-level sponsorship of the Deltek Insight conference to be held on November 14-18 at the Gaylord National Resort & Convention Center in National Harbor, Maryland (Washington, DC metro area). Insight is the premier event for project-based businesses to learn how to grow their business, improve performance, effectively manage projects and maximize their product and service investments.
Stambaugh Ness Business Solutions Managing Partner Steven Hake commented, "Sponsoring Deltek Insight provides us with an opportunity to connect with project-based firms and demonstrate how Vision products and solutions can be used to win business, deliver projects, and manage their organization more efficiently. Additionally, our team enjoys having the chance to meet with our clients in an environment filled with action-oriented sessions by top notch presenters."
In addition to being a Gold sponsor, Acuity Business Solutions' Senior Deltek Vision Consultants Barbara Bunting, and Jeff Stanley as well as Director of Consulting, Melissa Garner will showcase their industry knowledge and Deltek experience as featured speakers at this year's conference presenting a total of five sessions.
Barbara Bunting, Sr. Consultant will present:
Putting Workflows to Work for you – Tools for Beginners (VI-55) - This session is the perfect stepping stone to streamlining processes and maximizing efficiency for workflow beginners.
The Forgotten Features of Vision (VI-58) - In this session, Barbara will re-acquaint users with features that will help streamline daily processes and enhance efficiencies.
Customer Spotlight: Empowering PMs through Project Set Up (VI-09) co-presented with Senate Engineering Company's Accounting Manager, Gary Ross - This session will highlight Senate Engineering Company's ability to successfully leverage user-defined fields, workflows, and email alerts to streamline processes.
Jeff Stanley, Sr. Consultant will present:
Extending Workflow with Simple SQL for the Non-Programmer (VI-30) - Deltek Vision users will explore how to utilize the power of Vision workflows beyond the basic functions by using simple SQL functions.
Melissa Garner, Director of Consulting, will present:
To Unpost or Not Unpost – What Really Happens? (VI-28) - During this session, Melissa helps Deltek Vision users understand the consequences and do's and don'ts of unposting, and alternative processes for making corrections.
About Acuity Business Solutions
Acuity Business Solutions is a Deltek reseller, implementer, and consulting partner. The Acuity team has three decades of industry knowledge, best practices, and hands-on experience with Deltek products. Acuity provides sales consulting, support, training, and customization services for Deltek products. Acuity also offers value added services such as users group meetings, free product and business management webinars, special events, and lunch and learns to ensure its clients have access to the information they need to be successful and get the most out of their Deltek technology investment. http://www.acuitybusiness.com
About SNBS
SNBS, an affiliate of Stambaugh Ness CPAs, serves clients in more than 40 states. The company is a Deltek Vision Premier Partner and Microsoft Partner offering technology solutions that encompass, Network Support and Outsourced IT, and many cloud-based solutions. http://www.stambaughness.com
About Deltek
Deltek is the leading global provider of enterprise software and information solutions for government contractors, professional services firms and other project-based businesses. For decades, we have delivered actionable insight that empowers our customers to unlock their business potential. 22,000 organizations and millions of users in over 80 countries around the world rely on Deltek to research and identify opportunities, win new business, recruit and develop talent, optimize resources, streamline operations and deliver more profitable projects. Deltek – Know more. Do more.® http://www.deltek.com